May 15, 2012 -
Matt Bowen
Can Russell Wilson win a starting job as a rookie?
From all the reports out there, rookie Russell Wilson turned some heads at mini-camp this past weekend in Seattle. And according to Seahawks head coach Pete Carroll, the QB displayed some real talent that will put him in the mix with veterans Matt Flynn and Tarvaris Jackson for the starting gig this season.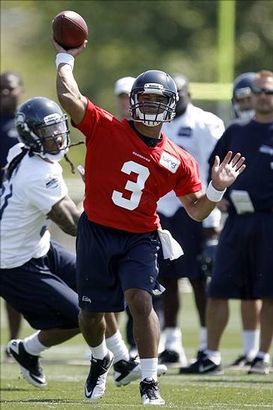 Russell will get an opportunity to compete for the No.1 job in Seattle.
Here is what Carroll said on Wilson (via ESPN): "He's showed us enough. He's in the competition. And that is going to tax us, as you know. It was already going to be taxing with two. But he's shown us enough that we need to see where he fits in with these guys."
Remember, Carroll doesn't hand out jobs on his team. Since he took over in Seattle, he has made an enormous amount of roster moves and uses the word "competition" more than any coach I have seen at the pro level.
In reality, that doesn't always happen across the league. Plenty of coaches talk about it, but players know there are certain starting jobs that aren't for sale. That's usually how this league works.
However, I like the idea of pro ball players being held accountable every day when there are jobs (and paychecks) on the line. That forces you to bring your best in meetings, OTAs and every single practice during training camp. You have to when there is someone coming for your job.
I don't know if the rookie from Wisconsin can beat out Flynn or Jackson. I have to see him play first in live competition vs. pro talent. Game situations. Third and eleven-plus, two-minute, red zone, etc. That's part of the drill.
But when you break down the rookies skill set, I understand why Carroll sees him as a fit in a west coast offense. Use the sprint, boot, dash (half roll) and throw the ball between the numbers and the hash marks (Hi-Lo concepts, inside breaking combinations).
That fits Wilson's game. Move him, create throwing lanes and allow the QB to use his ability outside of the pocket to make some plays.
I'm curious about this one. Flynn was just handed some new money to come over to Seattle as a free agent and Jackson has plenty of starting experience in this offensive system. Maybe the rookie eventually can jump Jackson on the depth chart, but to beat out Flynn? That's tough.
With Carroll running the show in Seattle, Wilson will get that opportunity.
Follow me on Twitter: @MattBowen41