July 02, 2012 -
Matt Bowen
Can Schiano 'fix' the Bucs in one offseason?
We often hear the term "culture change" in the NFL when a team goes through a transition at head coach. New rules, new ways to practice, dress on the road, train in the weight room, game plan, etc. The entire program is flipped in hopes of producing a winner.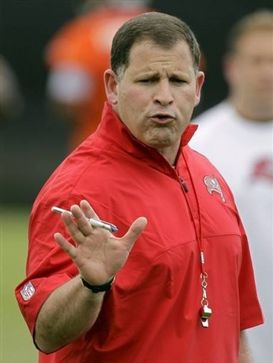 Will Schiano's style of coaching translate to immediate success in Tampa?
But does it lead to immediate success? That's the question I have with Greg Schiano taking over a team in Tampa that tanked last season, lacked fundamentals and played a poor brand of football.
Here's what Bucs CB Aqib Talib said recently about the change at the top: "It got a little loose last year where people got a little too loose around the building. So Schiano definitely came in and brought that order back to the building."
I can relate to Talib when he talks about the building being "a little too loose" (with former Bucs coach Raheem Moore). I went through a coaching change as a player in Washington when Hall of Fame coach Joe Gibbs replaced Steve Spurrier.
And while I don't want to cast Spurrier in a negative fashion (I loved playing football for the man), we needed a change in Washington. Because describing a coach as "too lose" is another way of saying the players ran the club.
Gibbs did alter the "culture" in our locker room and on the field. We were prepared, dealt with adversity in a professional fashion and displayed a much more physical attitude in our play on the field.
Accountability. That's the word I'm looking for under Gibbs.
But that first year was still a transition period for our team. No playoffs, some rough losses and plenty of film to work with. However, in our second season under the new coach, we ran off five straight wins to get into the playoffs, won the Wild Card round and eventually lost to the eventual NFC Champion Seahawks up in Seattle.
In Tampa, Schiano has some young talent, a QB in Josh Freeman and has already made some roster moves. And I expect to see a very physical football team this season on the field. Does that mean we will see the Bucs compete for a playoff spot this season? I can't say that without seeing them play under the new coach. But this will fall on the shoulders of the players.
As a locker room, we bought into Gibbs, his style of coaching and a training camp environment that was pure hell on a humid August day.
These Bucs players have to do the same. Schiano will be selling his new "culture" to pro athletes. If they buy it, this will be a much different football team in 2012. And I'm excited to see what they do.
Follow me on Twitter: @MattBowen41