February 10, 2011 -
Matt Bowen
Can the Bears keep pace with the Packers?
Since the Packers' Super Bowl XLV win this past Sunday, I have been asked about Lovie Smith and the Bears. In general, how big is the gap or separation between the two clubs? Bound to happen when a divisional rival wins a championship, plus we can all agree that Chicago has to make some upgrades to match the talent and scheme of Green Bay.
However, I do see three positions that Smith and GM Jerry Angelo have to address this offseason through the draft and free agency to stay competitive with the Packers: offensive tackle, cornerback and wide receiver. Let's break it down.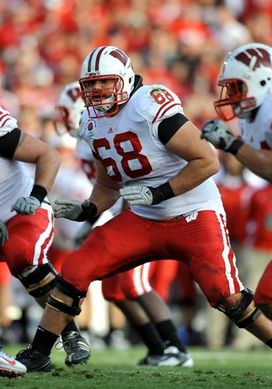 ICONWisconsin's Gabe Carimi could be an upgrade as a first round pick in Chicago.
1. Offensive tackle: The Bears struggle offensively vs. Dom Capers and the Green Bay defense. Part of that revolves around scheme, but it all leads back to protection issues. Until Chicago gets a dominant player at the tackle position, they will not be able to handle Clay Matthews or the zone and man pressure from Capers. One thing to discuss is the future of former first round tackle Chris Williams who was bumped inside to guard in the 2010 season. Does he stay inside or do we see him back outside to the tackle spot in 2011? Regardless, I see a club in Chicago that needs to invest in a tackle and find an upgrade over J'Marcus Webb that could possibly move over to the left side. Two names stand out late in the first round: Gabe Carimi from Wisconsin and Derek Sherrod from Mississippi State. I saw them both up close in Mobile at the Senior Bowl and I do think they can come into camp, compete and end up starting on opening day, Bottom line: Chicago needs to find a way to give QB Jay Cutler time to throw the ball vs. this Packers' defense. Invest in the O-Line and protect your quarterback.
2. Cornerback: We view Chicago as a zone based team because of the Cover 2 scheme under Smith, but the Bears will play plenty of single high safety looks (think Cover 1, Cover 3, zone pressure). You need numbers and quality depth at the cornerback position to play with the Packers empty sets and three wide receiver looks. Mike McCarthy wants to spread the field and work on the secondary. In Chicago, the top three corners aren't enough. Charles Tillman doesn't run as well as he used to, Jennings was taken advantage of in the NFC title game and D.J. Moore plays his best as a Cover 2 corner aligned inside of the numbers. Smith needs to create competition in camp and can find value in the draft at the position. Greg Jennings, Jordy Nelson, etc. Multiple weapons for Green Bay QB Aaron Rodgers that the Bears have to match up with.
3. Wide receiver: Is Johnny Knox a true No.1? That's the question for Angelo heading into this offseason. I see Knox as a fit for what Martz wants to do with his WRs, but I view him more as a solid No.2. The Bears need another option, a legit player outside of the numbers that can consistently make plays vs. this Green Bay secondary. A big body that can matchup with Tramon Williams and Charles Woodson, win vs. press coverage, create separation and run the inside breaking routes of Martz's system. Where does that put Devin Hester? Align him inside of the numbers were he can win vs. the majority of No.3 corners in the NFL. Take advantage of his lateral speed and ability in the open field. But you need to get another receiver for Cutler that can play to make that happen. A player that can alter coverage schemes. The Packers' secondary is the best in the league in my opinion. Time to upgrade the WR corps in Chicago to compete.
Follow me on Twitter: MattBowen41