November 20, 2011 -
Matt Bowen
Can the Bears survive without Cutler?
According to Vaughn McClure of the Chicago Tribune, the Bears were dealt some rough news when they learned that QB Jay Cutler is likely miss the next 6-8 weeks with a broken thumb suffered during the 31-20 win over the Chargers today.
Here are my quick thoughts on Lovie Smith's squad moving forward, because I'm not ready to count them out just yet...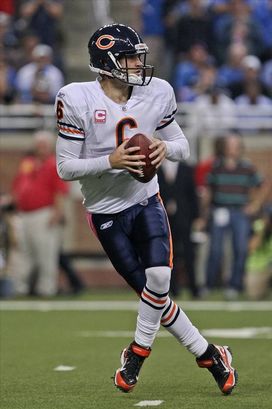 ICONCan the Bears still contend for a playoff spot without Cutler?
- Caleb Hanie will now take the snaps. And anytime you put your No.2 in the ball game, there is an expected drop off in production. The route tree and Martz's playbook won't change, but we could definitely see an increased amount of touches form both Matt Forte and Marion Barber if Hanie struggles moving the ball. Keep an eye on the game plan next Sunday vs. the Raiders and moving forward, because Hanie doesn't have the play making skills (or the arm) of Cutler.
- Don't forget about this defense under Lovie. Even with the production that Chargers' WR Vincent Jackson posted today at Soldier Field, this unit uses a good mix of Cover 1, zone pressure and Cover 2. More importantly, they force turnovers and set up the offense with short fields to work with. In a tough situation, I would want Urlacher, Briggs, Peppers, etc. on my side.
- Always talk special teams with the Bears. Dave Toub's unit is one of the best in the league when it comes to the return game. Plus, with Devin Hester there is always an opportunity to flip the field. Again, we are talking about field position that helps the offense put points on the board.
- The O-Line and Forte. I mentioned the increase in the amount of touches for the RB position, but we all know this starts up front. The Bears could get in a situation where they have to ride Forte in this playoff push. The top schemes: Stretch G, Lead Open, inside trap, outside zone, etc. have to produce numbers. Chicago needs those big days from Forte on the ground and catching the ball out of the backfield. Can't have Hanie in third and long situations and expect to move the sticks consistently.
Losing Cutler is a major blow for this football team that is on five game winning streak. Can't spin that any other way. However, let's see this play out before we bury the Bears for the season. Lovie Smith has proven he can coach and handle some adversity.
Follow me on Twitter: @MattBowen41