March 07, 2011 -
Matt Bowen
Can the players physically survive a lockout?
With a work stoppage still looming in the NFL, I want to focus on the players — from a different perspective. I am not going to get into the details of revenue, etc. as they apply to a possible lockout. The NFP's Andrew Brandt can coach you up from that angle and brings you the best perspective in the business.
Instead, let's discuss players and their preparation for the 2011 season if the NFLPA and the owners can't come to an agreement. The offseason is crucial to seeing good football in September and it is now on the players to act like professionals when it comes to their training. And I guarantee that there will be some who don't commit themselves to the game without some sort of direction. Here is my guide for the players during the lockout to start their season prep.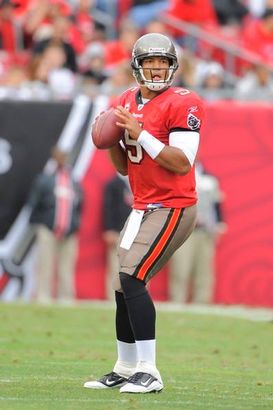 ICONTampa's Josh Freeman has made plans to work with his WRs in the case of a lockout.
1. Build your core strength: Not every player treats the offseason like a pro (saw it many times during my career), and without someone pushing them in workouts, it could get ugly. If I am an active player, I head back to campus in Iowa City to start training with Hawkeyes strength coach Chris Doyle. No question there, because I know I will get top-tier instruction in the weight room and on the field. For other players that don't head back to campus, you can head down to one of the Athletes Performance Institutes (training that many prospects use before the combine) or any other facility that specializes in training pro athletes. The offseason is important to building your core strength and muscle endurance for the long NFL season — which is hell on your body. Even with the front door locked at the team facility, find a place to train — because your production in the regular season depends on it.
2. Position-specific drills: Get on the field in a pair of cleats and run routes, backpedal and so on. QBs and WRs need to get together, DBs need to work one-on-one drills and players need to work at football- releated movements. The Bucs' Josh Freeman has already mentioned working together with teammates in the event of a lockout. My take? Smart move. I understand that we won't see actual organized practice settings with a work stoppage, but that shouldn't prevent any player from working doing position-specific drills. Train your body to play the game. If a lockout lasts long into the summer, players will have to be ready to walk into training camp in football shape.
3. Focus on speed and technique: Every NFL offseason workout I attended during my career included aspects of speed and agility training on top of what you do in the weight room from a conditioning aspect. Pro players work on running form, explosion, linear and lateral speed, etc. Don't think that offseason workouts are all about the bench press and wind sprints — because that isn't reality. There is technique involved in every movement you do and players focus on functional training. You can't get that at your local gym with a set of free weights. That's not good enough when you are a professional athlete.
Bottom line: if we see a lockout, it is on the players to prepare their bodies for NFL football.
Follow me on Twitter: MattBowen41