October 16, 2010 -
Matt Bowen
Can these QBs make a statement?
As an ex-player, one of the things I value most when discussing the NFL are the opportunities that present themselves on Sundays. A chance to win a starting job? Time to go do somehting with it. No different in the Week 6 schedule that kicks off tomorrow when we talk about the quarterback position. Kevin Kolb in Philly, Jason Campbell in Oakland and rookie Colt McCoy in Cleveland. Three QBs who have an opportunity to "autograph their performance." A saying I heard plenty of times during my career on Sunday mornings from the coach.
Let's check them out….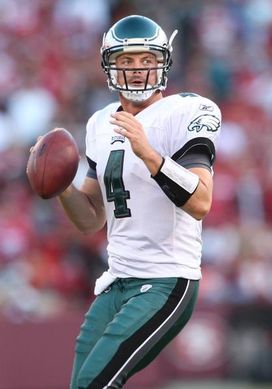 ICONKolb gets another start on Sunday.
Kevin Kolb, Philadelphia
I am firm believer that quarterback controversies during the season are detrimental to a football team. You need that one leader on offense and can't afford a split locker room. But, you couldn't have scripted the QB situation in Philly. Do I think Michael Vick gives the Eagles the best chance to win and compete for the NFC East title? Yes, but Andy Reid is going to have yet another decision to make if Kolb comes out tomorrow and plays big at home against the Falcons. And, just like Vick before his injury, it is tough to sit big production on the bench. Kolb is a fit for Reid's west coast offense.
Colt McCoy, Cleveland
For McCoy, a chance to take the QB job over in Cleveland. Jake Delhomme isn't a realistic option for this football team, and with Seneca Wallace out, why wouldn't Eric Mangini keep him under center moving forward if he can run the offense, produce points and protect the football? Not the ideal matchup for McCoy to have his first start of his pro career on the road against Troy Polamalu and the Steelers, but you can't give him a pass because of the schedule. NFL QBs are expected to produce. That is part of the job and the paycheck. Still has some time to get some extra film study in—which will be crucial against Dick LeBeau's scheme. These opportunities don't come along very often for third-round rookie QBs. I am excited to watch him play.
Jason Campbell, Oakland
Campbell has a shot to take back that starting job—but the numbers and the wins have to be there. Played solid last week in relief of Bruce Gradkowski in the Raiders' win over the Chargers. But, has to do it again. One game is never enough when we talk about QBs. Plays against a 49ers team that is dying for a win. What does that mean? More pressure and defensive backs taking more risk in the passing game—looking to make a big play. However, if I am Tom Cable, I want to see Campbell challenge the Niners' secondary and take shots down the field when the opportunity presents itself. Throwing the check down isn't going to keep Campbell in the starting lineup after tomorrow.
Follow me on Twitter: MattBowen41
Want to work in the NFL? Click here to register for the NFP's "Chalk Talk" seminar this Friday in Chicago.