March 09, 2011 -
Matt Bowen
Can Tiki still play?
On Tuesday, former Giants' RB Tiki Barber announced that he would be filing paperwork to come out of retirement. However, the questions from a football standpoint remain obvious: can Tiki still play and will a team take a flyer on the running back?
Let's break this down and ask some real questions—because walking back into the NFL game isn't as easy as signing some paperwork.
1. What level of talent are you getting with Tiki?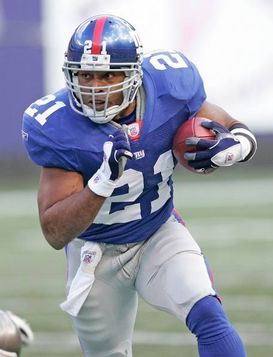 ICONCan Barber still be a productive player in the NFL?</p>
I spent three seasons in Washington playing the Giants in the NFC East. With Barber, you saw a RB that could hit the hole, press the edge of the defense and cut back with vision. A very productive player that had to be accounted for in the run game and out of the backfield as a receiver. However, that was before he left the game. What type of explosion does he have in his legs? Can he contribute in crucial down and distance situations? Can he still make people miss in the open field? I have to question where he is at right now in terms of playing productive football on Sundays.
2. Can Barber play special teams?
Starting RBs don't cover kicks in the NFL—but backups do. If a club were to sign Barber, he better be prepared to play on the kickoff coverage unit, block on punt team and find a role in the return game. It will be a step back—a dramatic step back—from what he did as the No.1 RB in New York, but that's life in the NFL. Make yourself a priority for the game day roster. For backups, that means playing on all four core special teams units. As Redskins' special teams coach Danny Smith used to say: "If you aren't starting on offense or defense, you better start on special teams—or we don't need you."
3. Is the former Giant physically ready?
I have been out of the NFL for four years. The amount of conditioning, strength and functional movement training I would have to do in order to prepare my body to compete in an NFL training camp isn't going to happen overnight. It is a process—a dedicated process—that puts stress on your body to prepare for pro football. Not as easy as walking down to your local gym and running on the treadmill after a couple sets of free weights. If Barber is serious about a return, he will have to rebuild his core strength, flexibility, plus work on his lateral and linear speed. Can it be done? Yes, you can re-train your body to play football at the professional level. But it is going to take time, patience and work.
4. Is there more talent in the draft?
Take a mid-round pick, such as Oklahoma State's Kendall Hunter, and compare the two. Who do you take? Think upside and development here, because with a rookie you expect some return in talent. No need to invest in older legs when you can get "football ready" prospects in the mid to late rounds of the NFL draft. A big difference compared with a player who hasn't seen the field since 2006.
Follow me on Twitter: MattBowen41