August 03, 2011 -
Matt Bowen
CB competition will be key for Bears in camp
There is no reason to try and spin the obvious in the NFC North, because if you want to compete with the Packers offense, you have to win outside of the numbers at the CB position. And in Chicago, one of those spots is up for grabs in a camp battle between Zack Bowman and Tim Jennings.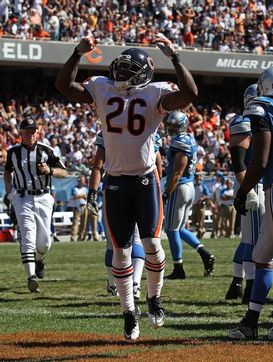 Jennings saw a lot of time in the Chicago secondary in 2010, but he will have to win a starting job this year.
In a story Tuesday at the Chicago Tribune, Brad Biggs talked about the Bears CBs and the open competition that will play out during training camp and the preseason.
One aspect Biggs hit on—and something we have to understand with Lovie Smith's defense—is that the Bears aren't always aligned in Tampa 2. Sure, it is a core call (and we will see it often on third downs and in the red zone), but this unit will play plenty of single high safety defenses (Cover 1, Cover 3, man and zone pressure).
I played in this scheme for Lovie, and his CBs must jam and re-route in Cover 2, play physical in the run game and show the ability to drive to the hip in an off-man alignment (think Cover 1 playing outside leverage).
Not an easy job when you have to play the slant, inside crosser or the deep dig in the NFL route tree. It requires technique, some safety help in the middle of the field and solid angles to the football. Lose leverage, or allow separation with the WR, and you are beat.
From a coaching perspective, Biggs points out that Bowman does bring the size (6-1) you would want in this defense. But can he stay healthy throughout camp to win the job? That has been an issue for the Chicago CB. Or do we see Jennings back on the field to open the season? He has solid change of direction skills and good closing speed—but isn't a consistent playmaker.
Bottom line here is that the Bears have to find a CB to line up opposite Charles Tillman. I agree that the talk on the O-Line, the WR position and the addition of Roy Williams is important to the development of this football team during the month of August.</p>
But if you can't matchup and run with Greg Jennings, Jordy Nelson and James Jones in Green Bay, it is going to be tough to repeat as champs of the NFC North.
A competition to keep an eye on this month for sure--and one I will check out next week when I head to Bears camp.
Follow me on Twitter: MattBowen41