January 10, 2013 -
Matt Bowen
Chancellor vs. Gonzalez? That's good football
I hope the Seahawks put together a game plan that leans on some pressure and man-coverage schemes in Atlanta this Sunday. I really do. Think Cover 1 (or even Cover 0) in the secondary—because I want to see Kam Chancellor matchup vs. Tony Gonzalez.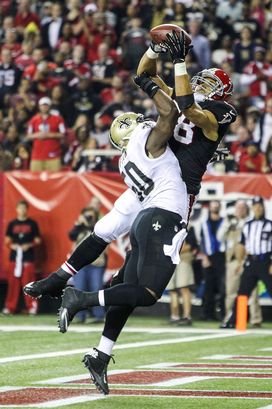 US PRESSWIREThe skill set of Gonzalez vs. the size and length of Chancellor...that's the matchup I want to see this weekend.
I know what the Falcons have outside of the numbers in Julio Jones and Roddy White. Legit talent right there. That's another good matchup to take in vs. Seattle's Richard Sherman and Brandon Browner. I would put those two corners in press-alignments for the majority of the game. Let them get physical at the line of scrimmage, mirror the release and play through the hands at the point of attack.
But I'm still focused on the matchup inside of the numbers with Chancellor and Gonzalez.
Look at the size and length of Chancellor vs. the skill set of Gonzalez. Think route running, body control and athletic ability at the top of the route stem. Gonzalez can still get it done…and I want to see how Chancellor attacks the tight end on Sunday.
Does he play from an off-position or will the strong safety walk up to the line and re-route Gonzalez on the release? Can Chancellor maintain his leverage throughout the route stem, use his free safety help and stay "in-phase" (on the hip) vs. Gonzalez on the seam or 7 cut (corner route) down the field?
Sure, the Falcons will use Gonzalez out of multiple alignments. That's smart. The tight end will align attached to the core of the formation, as the backside X receiver, in a bunch, stack, etc. This is a tough offense to prep for because they are so multiple within the playbook.
I mentioned the seam already and we have to also throw in the Tare combination (Stick-Flat combo), the "Nod" (quick double move) and the Hi-Lo concepts (Hi-Lo opposite, Hi-Lo Crossers). And don't forget about the Falcons game plan when they move the ball inside of the red zone. That's where Gonzalez becomes a prime target for QB Matt Ryan.
Maybe the Seahawks show more zone looks or the Falcons lead with the run game. I don't know that yet. But I'm hoping to see Chancellor vs. Gonzlaez. Two of the top players at their respective positions. And that's exactly what we should expect on the playoff stage.