April 01, 2011 -
Matt Bowen
Character concerns and the QB position
Talent wins in the NFL—and it usually takes precedent over character. We see it all of the time. Second (and even third) chances for players in the league that can produce on Sundays.
I played with plenty of guys during my career that weren't choirboys. Nothing wrong with that if they show up on tape. That's reality in the NFL. As I have said before, it is the "business of winning," and you win at all costs.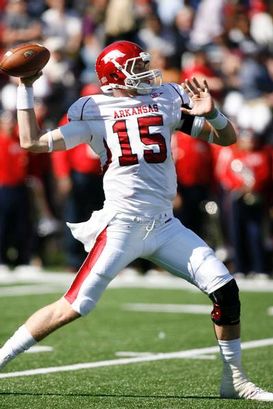 ICONCharacter concerns are associated with former Arkansas' QB Ryan Mallett.
But when it comes to quarterbacks and the NFL draft, character starts to take precedent with the top prospects.
This past week has been no different with the continued negativity towards Auburn QB Cam Newton. The same negativity that has followed Arkansas' QB Ryan Mallett since the combine and his press conference. An awkward experience for anyone in attendance.
I don't agree with the overwhelming amount of criticism aimed at either of these two QBs, but considering what is demanded of the position on Sundays, I'm also not surprised. It is part of the job, the investment and the responsibility that comes with playing quarterback in the National Football League.
You want to draft a QB in the top five, top ten or in late first round? That's fine, but realize you are telling your team, your veterans and your fan base that this guy (the one with red flags) is the leader of your ball club. And that includes the big paycheck.
Because of that, NFL scouts are going to dig deep—real deep—to find flaws and blemishes to put into their overall grade of QB prospects.
We aren't talking about a CB here, such as Colorado's Jimmy Smith. A player I wrote about on Wednesday. Top tier talent at the position with some character concerns. My take? Talent will win in that discussion going on in draft prep meetings across the league. 6-2, 211 with a 40 time in the mid 4.4s. Tough to pass up—even with the red flags. Take the risk, because the upside is productive talent on your roster.
Not at QB, because a risk that fails becomes a major bust. And it may takes years to recover when you miss on a top prospect at the QB position.
Both Newton and Mallett can play, and with the former Auburn QB, you are getting a unique player under center. Someone that brings creativity to your game plan and offense. I don't have doubts about that. But with less than a month to go until the first round of the draft kicks off in New York City, scouts and team officials will peel back even more layers of the top tier QB prospects.
As I said above, talent usually wins over character in this business, but when it comes to QBs, character does have to count for something.
Follow me on Twitter: MattBowen41