November 27, 2010 -
Matt Bowen
'Cheating' in the NFL goes beyond the camera
The Broncos and Josh McDaniels are in trouble with the NFL for taping 49ers' practice. According to multiple reports, he situation took place when both clubs were out in London last month. The result: a $50,000 dollar fine from the league office for both the head coach and the team.
Immediately we started hearing echoes of "Spygate" and the Patriots. The so-called benchmark for "cheating" the game. However, let's be honest here. There is much more that goes on behind closed doors that we don't hear about in the mainstream media.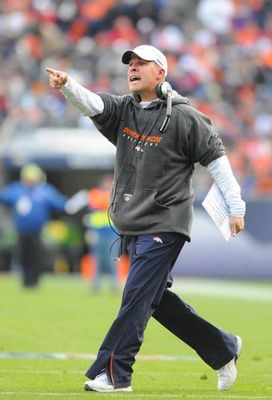 ICONMcDaniels and the Broncos are the latest to get caught "cheating" by the NFL.
Let's start with playbooks. You don't think those find their way into the hands of opposing players? I saw plenty of offensive playbooks during game weeks in my career. Printed, stapled and handed out to the defense. Magically they appeared in our meeting rooms, complete with route schemes, exotic plays and top concepts.
Sure, you can get some of that from the film, but it still an advantage to see the depth of the routes, blocking schemes, etc. that are coached by your opponent. The ideal study guide.
Game plans—left behind in the hotel. Everyone has a "guy" that will scour over the visiting teams hotel room before the cleaning service has a chance to get in. Special teams game plans, offensive audibles, blitz packages and so on. You would be surprised at how many players decided to throw out (or accidently leave behind) valuable information in their hotel rooms. And, that information always finds it way over to the locker room on Sunday morning. This allows coaches to make some last minute adjustments and alter their own game plans. Almost like seeing a copy of the test before you take it.
That hotel staff on the road is more than happy to feed you and take you in, but they are also instructed to see what type of information you have. There is a reason every team travels with a security staff that is on the player's floors and standing guard outside of meeting rooms. They aren't just there to walk around with the head coach or the big money players. If you leave something behind as a player, it will end up in your opponent's hands.
With McDaniels, he got caught. No matter what type of "spin" the head coach wants to put on this, that is the best way to say it. But, let's not be blind about this situation. Taping practice or using cameras during the game to see signals sent in from the sideline (which almost every player has seen in their careers) are more than "occasional" situations in the NFL. And it doesn't stop there.
Information is valuable—no matter how you get it.
Follow me on Twitter: MattBowen41