February 20, 2012 -
Matt Bowen
Chiefs add talent, coverage skills with Routt
I like the Chief's move today to sign CB Stanford Routt to a 3-year, $19.6-million dollar deal (via ESPN) because it gives K.C. two players outside the numbers (when we add in Brandon Flowers) that can play man-coverage.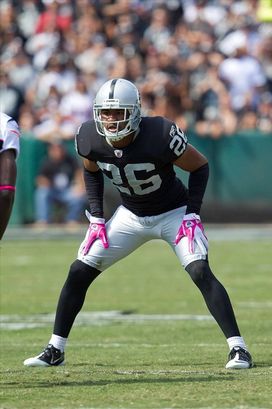 ICONThe Chiefs signed free agent CB Stanford Routt to a 3-year deal today.
And going back to the 2011 season when the Chiefs had success vs. a team such as the Packers, we saw press-coverage and physical play from the secondary.
No question that costs you as an organization to sign a CB with man-coverage skills, but it also allows you some flexibility from a defensive play calling perspective.
In order to bring pressure and play Cover 1 (man-free) or Cover 0 (blitz-man with no safety help), you must have two CBs with man-coverage ability that can funnel receivers to a single high safety or take away inside breaking routes in blitz-man.
Easy to talk about playing man-coverage and to install schemes during OTAs and mini-camp, but unless you have that talent in your secondary, you won't see the results in the regular season. And that does impact your game plan.
Plus, let's also remember that the Chiefs and head coach Romeo Crennel will get safety Eric Berry (good ball skills in the middle of the field) back in the mix in 2012 after missing plenty of time this past year with a knee injury.
Signing Routt does point at CB Brandon Carr possibly leaving via free agency, but I like the look of this K.C. secondary heading into the offseason. Solid move to scoop up the former Raider today.
Follow me on Twitter: @MattBowen41