November 21, 2011 -
Matt Bowen
Chiefs-Patriots: What to watch for on Monday night
Let's talk Chiefs-Patriots. Three things I am looking for in tonight's ball game as we lead up to kickoff in Foxborough.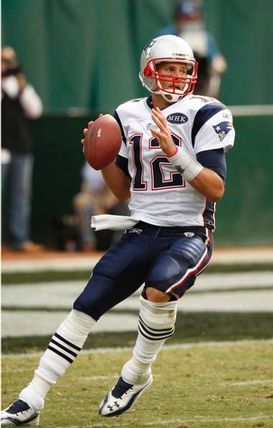 ICONThe TE position is key to creating matchups for Brady and the Pats' offense.
1. Patriots' TEs: A matchup issue for the Chiefs' secondary—especially when the Pats move the ball inside of the red zone. One thing to keep an eye on is personnel and alignment with the New England playbook. Ace (or 221) personnel on the field (2 WR, 2 TE 1 RB) with both Rob Gronkowski and Aaron Hernandez removed from the core of the formation (think 2x2 spread alignments). This allows QB Tom Brady to work inside breaking routes (post, dig, slant) vs. a matchup of a CB or safety playing with outside leverage. The same matchup we saw Brady exploit in the win over the Jets last Sunday.
2. Palko gets the start: With Cassel out with an injury, we get to see what Tyler Palko can do on the Monday night stage. The game plan may shift for the Chiefs, but the key to setting up Palko is winning on early down and distance situations. Use the run game, the screen, boot, etc. K.C. wants to have their entire playbook to work with on third downs, and to do that, they can't put their No.2 QB in consistent third and long (3rd and 8-plus) situations. Sure, you can take some shots down the field in the vertical game, but the Chiefs might have to lean heavy on the run game tonight with their starting QB in team issued sweats on the sidelines.
3. Patriots' pass rush: The ability to rush the passer in Bill Belichick's scheme was one of the major issues with this defense—until last Sunday. Andre Carter posted 4 sacks and this defensive front was able to collapse the pocket vs. Mark Sanchez. Working against an inexperienced QB, I wouldn't be surprised to see multiple looks on 3rd downs and more pressure that leads to turnovers. Nothing better than playing in the secondary when you know the ball has to come out. Sit on routes, flat-foot read (no backpedal) through the 3-step game and make some plays.
Follow me on Twitter: @MattBowen41