April 18, 2011 -
Matt Bowen
Clausen could be the next victim of the NFL Draft
Going into my second season as a pro with the Rams, I expected to compete for a starting safety spot in 2001. After getting on the field in a starting role for a couple of games as a rookie and showing up on tape covering kicks, this was my opportunity to win a job that I could keep early in my career.
That lasted until we drafted safety Adam Archuleta with our first round pick in late April. There would be no real competition for a starting job. Instead I spent the month of August fighting for a roster spot in Macomb, Illinois during training camp.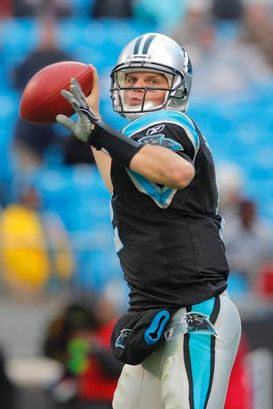 ICONClausen could be replaced by Cam Newton if the Panthers take the Auburn QB at No.1.
Panthers' QB Jimmy Clausen could be in the same situation. A new head coach that is holding the No.1 overall pick with rumors becoming more prevalent that Auburn QB Cam Newton will be the first player to hear his name called next Thursday night.
And if the Heisman Trophy winner is announced as the top pick in the 2011 draft, Clausen should give his agent a call—because his time will be just about done in Carolina.
I felt sick (almost to the point of vomiting) when we drafted Archuleta back in '01. I ended up making the Rams final roster that summer, but my role was very defined: cover kicks. That's it. Play in a backup role on defense, but my job—and the reason I was on the team—was to play special teams.
This is a story plenty of guys can tell. Because when a rookie is drafted in the first round—and he plays your position—your future with the organization is shortened.
It will be no different down in Carolina if Newton is the guy at No.1. The Panthers could try and trade Clausen once a new CBA is in place, let him warm up the depth chart for Newton or eventually cut him loose.
While I feel that Clausen will make his biggest jump in terms of development in his second season as a pro, the tape that Rivera and his staff are watching from the 2010 season is all they have in terms of grading his play. He played like a rookie, made poor decisions with the football and needs more time to mature at the position.
The lockout has wiped out any chance of a pre-draft mini-camp for the Panthers (something that could have benefited Clausen) and now he has to wait till the opening night of the draft to find out his future fate with the club.
First round picks will eventually start in the NFL. And if you play that position, it means you start researching how much it costs for Mayflower to pack up your rented condo. Just like I did in St. Louis before I eventually moved up to Green Bay—the next stop during my career.
Follow me on Twitter: MattBowen41