December 20, 2010 -
Matt Bowen
Collie's latest concussion is a warning sign for the NFL
Austin Collie suffered a concussion on Sunday in the Colts 34-24 win over the Jaguars. It was the wide receiver's third concussion—in the last seven weeks. Common sense says that Collie will likely be shut down for the rest of the season. But, what does this say about the league and head injuries?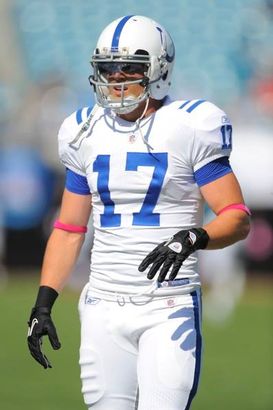 ICONCollie suffered his third concussion of the season on Sunday.
I wrote about Collie after his second concussion earlier this season against the Eagles. It was a tough moment to watch—the receiver strapped down and carried off the field. I wondered about his family first—and teammates second—because I can only imagine what they were thinking watching that situation, his facemask unscrewed, loaded up on a backboard and taken away into the locker room tunnel.
Sure, the league is all about public relations when it comes to concussions. Commissioner Roger Goodell even talked about them last night with Bob Costas of NBC. But after watching an entire slate of games on Sunday—and knowing the impact of head injuries from my own experiences in the NFL—there isn't an answer, or a solution to the violence of the NFL. Collie is just another example of how the game has evolved from a collision standpoint. And no matter how many flags are thrown, or how many fines are given out, they won't stop. We will continue to watch players struggle to get up after big hits over the middle of the field or at the line of scrimmage during an off-tackle run.
The players know it as well. Every time you put that helmet on there is a risk for injury. And concussions are becoming more and more part of the culture of the NFL when compared with broken bones and blown knees. We see them too often and unlike that torn ACL or broken leg, they aren't correctable in the long run. The headaches and the overall impact don't go away with age. In fact, they increase, slowly getting worse.
Throw more flags; single out players like the Steelers' James Harrison or safety Ryan Clark after his hit on Braylon Edwards on Sunday. Make it a point to educate the players in training camp and throughout the season. But, don't try to fool us with some half-assed commitment to new helmets and political speeches in a pregame show. Concussions are here to stay, and neither Goodell nor a change in the rulebook is going to prevent players like Collie from suffering more effects from a blow to the head.
Follow me on Twitter: MattBowen41