December 09, 2010 -
Matt Bowen
Colts-Titans game notes: breaking down Manning
A quick breakdown of what I saw tonight from Peyton Manning in the Colts' 30-28 win over the Titans. Three reasons why the Colts' QB had a productive night in Nashville.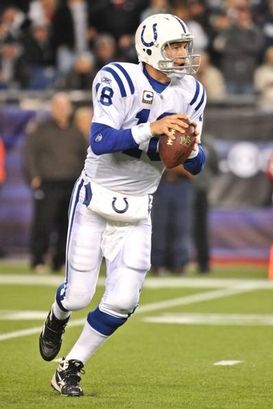 ICONManning threw for 318-yards in the 30-28 win over the Titans.
1. Executing the offense: There wasn't any panic from the Colts when we take a look at this game from a scheme perspective. The same routes we always see from Indy: the deep backside dig, the whip options, the china-dig combo, the slant, the seam and the fade when Manning saw Reggie Wayne matched up against the Titans' Cortland Finnegan. The Colts didn't simplify because Manning was struggling coming into this game. Run the offense and let your quarterback dig himself out of a three game losing streak—and he showed up with 318-yards, 2 TDs and zero turnovers.
2. Take advantage of the defense: Start with the first deep ball to Wayne. Finnegan uses a zone turn (back to the sideline) from a press look with no jam at the line of scrimmage. Too easy for Manning. Go to the slant to Pierre Garcon for a TD vs. blitz-man coverage with no safety help. The CB gets beat to the inside and losses leverage—an easy six points. On the second TD to Garcon, the Colts run two verticals at a Cover 2 safety. Garcon again wins at the line of scrimmage with a free release and Manning hits him in the end zone. When you play Manning, you better be on your game—because he will target techniques and schemes.
3. The running game: Indy ran the ball 32 times tonight. That brings balance to the offense and it allows Manning to face some eight-man fronts and use the play action game. Talked about it before, the numbers don't have to be big (32 carries, 86-yards for Indy tonight). But when it comes to situational football (think 3rd downs, red zone) there has to be production. That has meaning when we break down Manning and why he was able to have such a productive night, because it opens throwing lanes and evens out that game plan.This is the exact script that the Colts need from an offensive standpoint over the next three weeks to put a run together and win the AFC South.
Follow me on Twitter: MattBowen41