August 16, 2011 -
Matt Bowen
Could the 'Skins have the top safety combo in the NFL?
If Redskins safeties LaRon Landry and O.J. Atogwe can get healthy and still prep for the regular season, Washington might just have one of the best combos in the NFL.
Comparable to what we see in Pittsburgh with Troy Polamalu and Ryan Clark?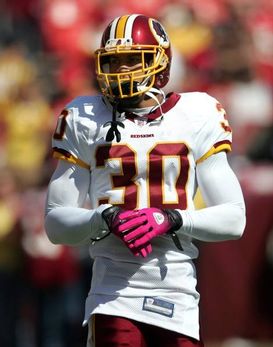 ICONWith Landry and Atogwe, the Redskins have some real talent at the safety position.
Not quite yet, but the talent is there. And after having played the position during my own career, I feel confident that the 'Skins have two players that will consistently show up on tape every Sunday.
As detailed by Rick Maese of the Washington Post, both safeties are doing their best to prep mentally while they go through rehab to get back on the field. Landry is dealing with an Achilles injury while Atogwe is trying to get back on the field after a hamstring issue.
Want a quick version of what they bring to Jim Haslett's defense? Here's what I see…
- Start with Landry. Physical, aggressive (almost to a fault) and a player that can show up inside the box. Think of him rolled up over a TE, filling the gap vs. the run or blitzing off the edge. Plus he will hit—every time on contact.
- Move over to Atogwe—one of the best free agent moves of the offseason. Takes good angles to the football, has range and will make a play from the middle of the field. 22 career interceptions. That's a big number. And in today's NFL vs. the multiple spread looks we see, you won't survive without a playmaker at FS.
The key, however, is getting them back on the field. They have top-tier coaching from Steve Jackson (one of the best I have ever played for). That's not a concern. But reps in practice or the preseason do carry some weight here.
I was hurt (plenty) during my career. And those mental reps don't have the impact of seeing and reacting to offenses on the field at NFL speed. The team needs to get them healthy and back in uniform. And when they do, Redskins fans will have something to look forward to when they come to Fed Ex Field—because these guys can play.
Follow me on Twitter: MattBowen41