July 28, 2011 -
Matt Bowen
Could you turn down Rex and the Jets?
Here is what I would do if I were still playing in the NFL and testing the free agent market: call up my agent, tell him to work the phones and get Rex Ryan and the Jets on the line.
It wouldn't matter if I were a top-tier free agent or a guy that covered kicks for a living. Because that is the coach I would want to play for.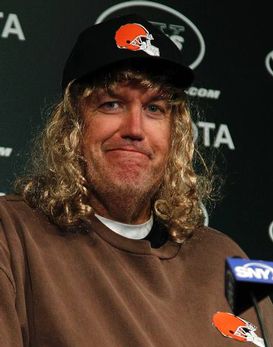 Could you turn this guy down if he offered you a contract?
During my career, it was Bill Belichick and the Patriots. Everyone wanted to play for the Pats. They won and the players respected the coach. A pretty simple formula. And while New England is still one of the top destinations for free agents in this league, I think New York is taking over as the top spot.
But it starts with Rex.
Players in this league want to get paid in free agency. That is a given, however they also want to play for a coach that is going to challenge them, test them and treat them like pros.
With the Jets head coach, you get all of that, plus the brash (or borderline cocky) attitude that comes with it. Something that drives players. They want to be a part of that, experience the environment that Ryan provides and win football games.
And talking with current and ex-players for Rex, they will tell you the same thing: you want to go to work when he is running the show.
It is a topic that NBC's Chris Collinsworth talked about over at his website, FootballPros.com, last night. And he brings up some great points: Santonio Holmes re-signing for less money, Mark Sanchez willing to restructure his deal to provide more cap space and the talk of top free agent Nnamdi Asomugha landing with the Jets.
Does this happen with another coach in New York? Easy to say it would, but I'm not buying it. That is why I believe the Jets can entertain any free agent they want and also be selective with their roster. A huge advantage when it comes to targeting veteran players.
Let's see how it plays out with Asomugha this week. The CB may decide to take his skills somewhere else, but I know that I couldn't turn Rex down.
Agree? Disagree? Talk about in the NFP Forums.
Follow me on Twitter: MattBowen41