August 19, 2012 -
Matt Bowen
Cover 1 vs. Johnson in the red zone? No thanks…
Click here for the entire Inside the Playbook series.
On Friday night, Calvin Johnson beat Ravens' CB Jimmy Smith for an 18-yard TD on the 9 (fade) route. A quick breakdown: win on the release vs. press-man, stem the route up the field and adjust to the ball. Almost too easy with the Lions' WR against a single high-safety defense. And that's why I'm starting to think playing Cover 1 (man-free) is a risk I wouldn't be willing to take vs. Johnson once the ball crosses the 25-yard line.
Here are my reasons why…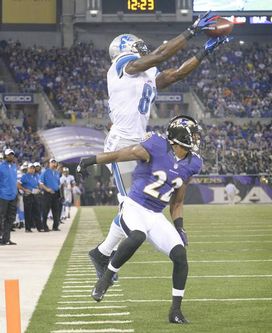 Johnson beat the Ravens' Jimmy Smith on the fade route Friday night.
- On the goal line, you don't have any other options but to play man-coverage vs. the one-step fade. But from the plus 15 to 25 yard line, I'm sticking with Cover 2 (Tampa 2) or Cover 6 (quarter, quarter, half) with the rolled up CB aligned over Johnson. Sure, that can be called conservative, but I want to get a jam on C.J. with a deep half safety playing over the top to cushion the 9 route.
- My first issue with Cover 1 vs. Johnson: the release. You have to win at the line of scrimmage (or at least disrupt the release) to have a shot. Get beat on the initial steam and now you are in a trail-position (without the oppportunity to recover) vs. an outside vertical concept. That's trouble.
- My second issue with Cover 1: playing (and finding) the ball. If you go check out the replay from Friday night, Smith wasn't in a position to find the ball or play up through the hands of the receiver. One of the toughest things in this league is to play man-coverage vs. a vertical route, stay "in-phase" vs. the WR (on inside hip) and locate the ball. And you will have to climb the ladder to play the ball at the highest point vs. Detroit's wide out.
- Don't forget about the safety position. In the red zone, you have to shorten your depth as a FS and break almost before the throw to get outside of the numbers because the speed of the game increases. Take a false step or a poor angle, and you don't have a chance to make a play on the ball. That leaves the CB without any help vs. the 9.
- I always talk technique when breaking down secondary play in the NFL because it wins. Mirror the release, use your hands, play the "pocket," etc. Basic coaching points in the Cover 1 defense. However, that technique has to be almost perfect when playing Johnson one-on-one in the red zone to make a play.
I'll pass…and stick with Cover 2 for now.
Follow me on Twitter: @MattBowen41