September 05, 2012 -
Matt Bowen
Cowboys-Giants: Three things to watch
With the 2012 NFL season opening tonight in New York, here are three things I will be watching in the Cowboys-Giants matchup...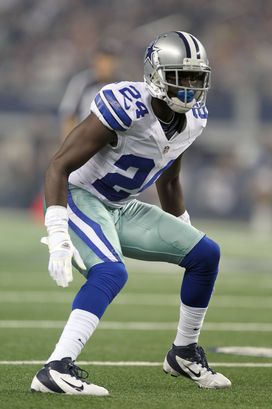 US PRESSWIREWhen the Cowboys bring pressure, focus on the technique of rookie Morris Claiborne.
1. Cowboys' secondary: Dallas paid big for CB Brandon Carr and moved up in the Top 10 to grab LSU CB Morris Claiborne. In Rob Ryan's pressure scheme, CBs are asked to play blitz-man from both a press and off alignment. And if you want to bring six and seven-man pressure, you need the ability to lean on your secondary—because that ball is going to come out quickly. Focus on technique (plant and drive, leverage, eyes) from both Carr and Claiborne tonight. And don't forget that Claiborne is a rookie. Eli Manning should target him early.
2. Giants front-four: I brought this up on Tuesday, but it is worth repeating because of the talent New York has on the defensive front. Think of it this way: you can play coverage (Cover 2, 2-Man) on third downs (and crucial situations) when your front four can get home. Look for Dallas to use some max-protection schemes in prime field position (between the 40's) to take a shot down the field and they must get in manageable third down situations (3rd and 2-6) to move the sticks. The Cowboys need to give Tony Romo time--especially if Jason Witten isn't active tonight.
3. The running game: Easy to talk about Romo, Manning, Cruz, Bryant, the possible return of Hakeem Nicks, etc. But let's not forget about the ability to run the football for both teams. You don't need a 100-plus yard night from DeMarco Murray and Ahmad Bradshaw (plus keep an eye on Giants' rookie David Wilson). However, I'm looking at red zone production, early down and distance situations and a possible 4-minute drill to close out the win. Having balance to the game plan also leads to more play action opportunities and the ability to work the middle of the field on inside breaking routes.
Follow me on Twitter: @MattBowen41