August 13, 2012 -
Matt Bowen
Cowboys-Raiders notes
That was some sloppy football tonight out in Oakland, however, there are always coaching points and techniques to talk about in every preseason game. Here are my notes from the Cowboys-Raiders matchup.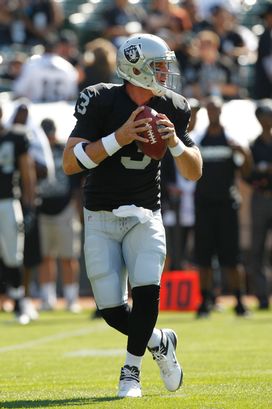 US PRESSWIRECarson Palmer needs to hold the FS when throwing the 9 route vs. man-coverage.
Palmer's INT: If you are going to throw the 9 (fade) route up the sideline, you have to hold the safety in the deep middle of the field. With the Cowboys playing a single-high look; FS Gerald Sensabaugh was shaded to the near hash on the open side of the formation. That's easy ground for a safety to cover when he can break on the throw. Nice play (and range) from Sensabaugh, but that INT is on Palmer.
Terrelle Pryor: No reason to question the QB's athletic ability. We can all see that. However, Pryor doesn't look comfortable in the pocket. He was too quick to pull the ball down and had issues with his footwork. The best thing for Pryor right now is repetition during the preseason to push his development forward. He needs to play, go through his basic progressions, step into his throws and deliver the football on time. Can't get away with the scramble drill on a consistent basis in the pro game. He needs coaching.
The back shoulder fade: With the Raiders showing pressure—and press-man at the line of scrimmage—Cowboys' QB Tony Romo went to the back shoulder fade. Smart call with WR Dez Bryant outside of the numbers. The idea behind the back shoulder throw is simple: force the DB to find the ball. This should be automatic when Romo reads Cover 1 (man-free) and Cover 0 vs. a press-look.
Bad football: A lot of that tonight. Dropped passes, poor O-Line play up front, etc. Not surprising to see this in a preseason opener when you don't set game plans, but you still have to execute the techniques of the scheme. This will be a tough tape to watch for both squads.
Quick Xs and Os…
McFadden and the "Tunnel" Screen: Motion the RB ("waste motion") to create an empty formation and throw the "Tunnel" screen. I like this. Why? Just another opportunity to get the ball to McFadden in open space. Pick up a block and get vertical with speed.
2-Man in the secondary: I saw some 2-Man (Two-deep, man-under) from both defenses tonight in 3rd down situations. A defense I trust when you have underneath defenders playing "trail-man" (play to inside hip on WR). But there are two ways to beat it: the inside seam and the "Out" route (WR shorten split to top of the numbers). Look for those two routes throughout the preseason vs. 2-Man.
Follow me on Twitter: @MattBowen41