December 25, 2012 -
Matt Bowen
Cowboys-Redskins for the NFC East? I'm jealous
I could feel Fed Ex Field shake on opening day when Joe Gibbs came back to coach in Washington. That stadium was electric as fans waited for the opening act on a warm, but somewhat manageable afternoon down on the field in Landover.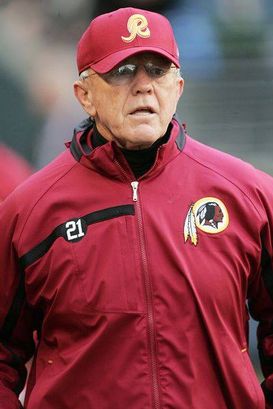 The atmosphere at Fed Ex Field was electric when Gibbs came back to the sidelines in 2004.
We ran the Counter Trey, blitzed at least twenty-times under new defensive coordinator Gregg Williams and beat Jon Gruden's Bucs 16-10 on that Septmeber day in 2004.
But the game itself was almost secondary to the carnival-like atmosphere that developed when Gibbs jogged onto the field. Redskins' fans had their coach; their guy back in the mix and optimism (or hope) was at an all-time high.
I played in some great backdrops during my career: Lambeau, Philly, Texas Stadium, the late afternoon kickoff at the Meadowlands, Soldier Field, Arrowhead, Monday night, every playoff game.
But I can't say that any of them stood up to that opening day game in Washington.
However, can you imagine what Fed Ex will feel like when RG3 and the 'Skins host Tony Romo and the Cowboys this Sunday night?
One game for the NFC East Championship. And I'm jealous. I really am.
Who wouldn't want to play in that game under the lights? Come on. That's pro football right there. The speed of the game is going to increase, the in-game coaching will be crucial and the true emotion on the field will carry over through the whistle.
The hitting? I expect it to resemble the post-season stage where guys are playing for rings and bonus checks. Win and you take home the division title along with a spot in the dance.
I don't cheer for the NFL teams that I played for and my days as a Bears fan ended a long time ago when I was a kid. But I still know people in the building over at Redskins Park in Ashburn, Virginia and it's going to be hard for me to look at this game completely unbiased.
Cowboys-Redskins is one of the best rivalries in pro sports and these games are as physical as any I've ever played in. That's the truth.
This Sunday is great theater, great drama on the national stage. And that's how it should be when these two clubs play football.
Have a great Christmas Day…
Follow me on Twitter: @MattBowen41