February 21, 2012 -
Matt Bowen
Creating competiton for Tebow is the right call
Tim Tebow is going to see some competition this season out in Denver and I couldn't think of a better move from head coach John Fox when it comes to challenging his QB—because that is part of being a pro.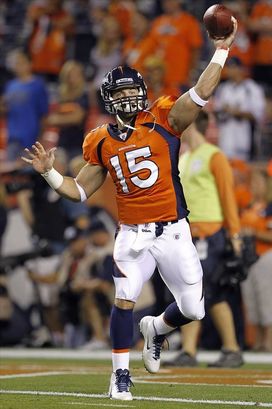 ICONCreating some competition for Tebow should be the goal of the Broncos coaching staff this offseason.
According to Mike Klis of the Denver Post, Fox and the Broncos plan on adding two QBs this offseason. And while Klis points out that Tebow is still the No.1 heading into the offseason, I'm telling you that creating competition is the best thing for any football team in this league.
Talk to any of the successful coaches in the NFL and you will hear the same, because no job should be guaranteed.
And when you have that competition—at multiple positions—that is a sign of depth and overall talent on the roster. You need that in camp.
Make the players earn it on the field. That's the NFL way.
Tebow should take the first snaps in training camp this season (regardless of who the Broncos bring in). He has earned that based off of his ability to win games during the 2011 season and beat the Steelers in the playoffs.
But in order to develop his overall skill set (plus his ability to throw the entire route tree with production), he needs to be pushed.
And there is nothing wrong with bringing in some young talent via the draft or a free agent QB that has some experience in the NFL. All that does is test your No.1 QB to play his best football from OTAs through training camp and into the regular season.
We all know that Tebow has some negatives to his game when we break down his ability to throw from the pocket. That has to change for the Broncos, plus John Elway, to fully buy into him as the future of the franchise at the QB position.
The point here is that Tebow does need to play with more consistent production despite the 4th quarter wins he helped generate along with that defense in Denver. And bringing in some added competition will make him a better overall player at the NFL level.
Follow me on Twitter: @MattBowen41