July 31, 2012 -
Matt Bowen
DBs vs. WRs: what to watch in 1-on-1 drills
Click here for the entire Inside the Playbook series
Click here for a breakdown of the NFL route tree.
When the DBs and WRs line up to compete in one-on-ones during an NFL training camp practice, forget about looking for big plays and focus on technique with both sides of the ball. Off-man and press coverage vs. the entire route tree. And here are the five things you should be watching…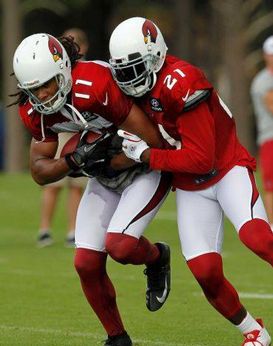 WRs need clean angles back to the ball in one-on-one drills to create separation.
1. DB plant and drive: If the offense wants to "win" the drill and throw the 3-step game (slant, hitch, quick out) vs. off-man, then look for the DBs ability to drive the route. Read through the 3-step drop (also called a "flat-foot" read), plant and break at an angle that allows the DB to attack the upfield shoulder. Look for controlled footwork here with a burst that brings the defender back downhill to the ball carrier.
2. WR vs. press-coverage: Can the WR win at the line of scrimmage? Watch their lateral movement on the release (force DBs to "open the gate") and their hands. Young WRs will open up their bodies on the release and get jammed up if they don't use a counter move to create space and win based on the DB's leverage. Be physical as a wide out, use your upper body strength and fight through the press-coverage.
3. Route break: Is it smooth or choppy? You don't want to see a WR round his cuts and allow a DB to break in front of the throw. Balance throughout the route stem, lower body control and a sharp angle. This is how you create separation back to the ball and use leverage to win.
4. DB technique/eye placement: If a DB gets beat, where are the technique errors at the top of the route stem? Does he lose his cushion (distance between DB and WR), step "in the bucket" (step behind on the break) or take his eyes off the WR (looking in at the QB) when he drives the route? Poor technique and eye placement are always the reason DBs get beat in one-on-ones. Play with solid footwork and put your eyes in the right place if you want to win in this drill.
5. Playing the ball: Who wants to finish the play? I can talk about footwork and angles all day, but this is still about competition. In one-on-ones you will find out who wants to attack the ball at the highest point, play the "pocket," etc. And in full gear, there is nothing wrong with some contact when two players are fighting to win this drill. Have to show the ability to find the ball and finish.
Follow me on Twitter: @MattBowen41