September 20, 2011 -
Matt Bowen
Defensive players faking injuries? You bet they are
Over the first two weeks on of the NFL season we have seen points on the board, offenses using spread formations and defenses scrambling to get personnel on the field vs. no-huddle game plans.
The solution? Tell one of your defensive players to "take a dive."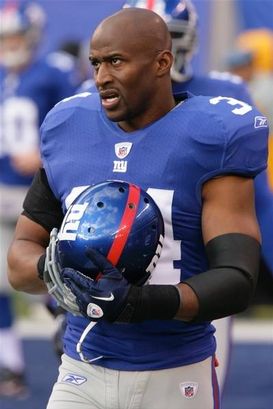 ICONThe Giants' Deon Grant "took a dive" last night vs. the Rams.
Let's not be naive here today, because I can tell you that this tactic (or gadget) is coached in the NFL from a defensive perspective.
I saw it on Sunday vs. in the Chargers-Patriots game when Tom Brady was moving the ball down the field and again last night when Giants' safety Deon Grant suddenly went to the ground vs. Bradford and the Rams.
Why do it? For starters, to give your defensive guys a rest. And more importantly, to match the offensive personnel on the field. Maybe you need to get your sub package in, switch out a four-man front or bring another linebacker off the sidelines. Whatever the case may be, you need a break in the action to do that.
Over at Pro Football Talk today, the idea of handing out fines from the league was brought up when it is clear that a player takes a dive. Makes some sense there.
However, the problem with that is simple: no way to prove it or question an injury on the field.
And the defense that do it on a consistent basis, keep it close to the vest. The trick? Don't let the training staff in on the gig. You want them to sprint out on the field the same way they would if a player just went down with an ACL injury.
Only this time they are treating a "cramp" in the calf or hamstring.
By no means am I saying this is good for the game, but it isn't going to stop anytime soon—because I saw it five years ago when I was playing. And if offenses continue to run their game plans through QBs at the line of scrimmage, we will see more defensive players grab the back of their hamstring and put on a show in front of a national audience.
Follow me on Twitter: MattBowen41