July 26, 2012 -
Matt Bowen
Development is now the concern with Kirkpatrick
There's no question the Bengals didn't expect the news of Dre Kirkpatrick's injury before camp even started, but you adjust the depth chart and get to work. That's the same for any NFL club at this time of the year.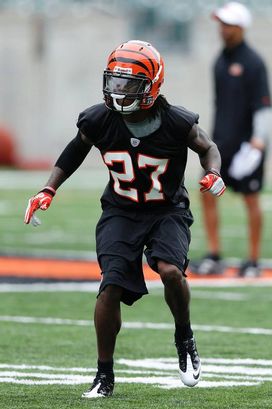 Missing time in camp due to an injury will slow the development of rookie CB Dre Kirkpatrick in Cincinnati.
The immediate concern here for Kirkpatrick and the Bengals? The lack of reps, technique work, corrections and overall development of the rookie. You miss a day of camp in the NFL and you might as well miss three. Miss a week? Now you are a ghost. Miss the majority of camp? That's rough on anyone.
This is an issue when we look at a player like Kirkpatrick who has the skill set I would covet as a DB coach in this league. Legit length, size, press-coverage skills and enough speed to turn his hips and play the 9 (fade) route.
Now? He is on the shelf. According to Joe Reedy of the Cincinnati Enquirer, Kirkpatrick could miss up to 4-6 weeks with a broken bone in his knee and will end up on the Active/PUP list (Physically Unable to Perform).
Looking at this from the perspective of a defensive back, that is time lost—that can't be made up. No one-on-ones, team drills, 7-on-7, real game situations throughout the pre-season schedule.
You need to get beat as a rookie DB. Give up the post, lose leverage in Cover 1, show some technique errors, etc. Because that's how you get better. Make the mistakes and then go through the corrections to tailor your game to fit the pro level. I talked about the importance of reps on Wednesday because they are so crucial to understanding the pro game from a scheme and technique perspective.
It doesn't matter if Kirkpatrick was a first round pick or that he came from Nick Saban's program at Alabama. He needs work to compete with veteran WRs. And that is what you get—daily—in an NFL training camp when you are in uniform.
Can Kirkpatrick recover and make an impact this season to the Bengals defensive game plan? I don't doubt that. But we have to remember that the rookie will be behind and coaches won't wait around for a player that is in the training room.
Let's see what the club says about the injury moving forward. A tough blow to a player I was really excited to watch early in the preseason because I think he can compete consistently at the CB position.
Follow me on Twitter: @MattBowen41