August 25, 2011 -
Matt Bowen
Did Rex do enough to stay alive in 'Skins QB battle?
I spent some time tonight watching the Redskins-Ravens game and focusing on Washington QB Rex Grossman. In the middle of a QB battle with John Beck, the veteran QB needed to show up vs. a defense that brings pressure and gives multiple looks before the snap of the ball.
How did Rex play? Let's check out some of my notes from the game…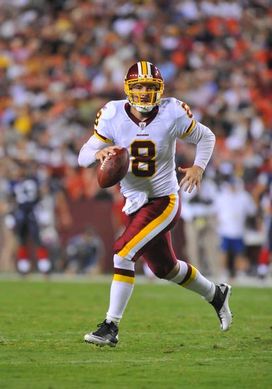 ICONGrossman made solid throws vs. the Ravens first-team defense tonight.
- Inside breaking routes. That is exactly what Grossman wants to throw in this offense. What did we see? The slant, TE shake route, deep inside dig, the quick smash route vs. pressure, etc. Rex doesn't have a deep ball arm like Beck, but when you look inside of the numbers, he was accurate and got the ball out to his receivers. Posted good numbers vs. this defense: 8-15 for 115-yards and a TD.
- The two-minute drill. We should talk about it, because Grossman looked relaxed and moved the ball down the field vs. the Ravens first-team defense. Made an almost perfect throw on the skinny post to Santana Moss that the WR couldn't bring in, but finished off the drive going back to Moss on the 7 (corner) route. Was it vs. a blown coverage? Of course—and Ravens rookie CB Jimmy Smith left the rest of the defense out to dry on this one. However, as a veteran QB, you see that and take advantage of it. Big in a QB battle, because game situations (such as the two-minute drill) carry more weight in the grading process.
- What didn't I like tonight from Rex? He isn't great in the pocket—and you could see that. Working vs. edge pressure (part of the overload blitz schemes in Baltimore), Grossman has to find ways to step up in the pocket, deliver the ball and avoid retreating with defenders in his face. He isn't going to give you a lot of movement in the pocket (or in the boot game) and that is something the 'Skins can get from Beck.
Like I have said all preseason, we can't make a call on a position battle based off of one half of football in August. I would be surprised if Beck isn't the opening day starter in Washington, but give Rex some credit for playing good football tonight. Because that should at least keep him alive in the QB battle.
Follow me on Twitter: MattBowen41