May 01, 2012 -
Matt Bowen
Did the Bengals land the most talent in the draft?
I try to slow down on the post-draft hype when it comes to rookie classes. These first year players will have a hard enough time trying not to get lost in their new cities. However, looking at the talent the Bengals acquired over the weekend, I like what Marvin Lewis is doing in Cincinnati.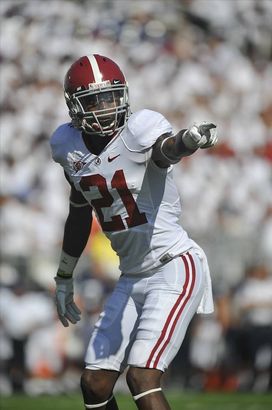 ICONThe Bengals drafted Alabama's Dre Kirkpatrick at No.17 overall.
Start with Dre Kirkpatrick at No.17 overall. I talked up the Alabama CB in the months leading up to the draft because of his size, length and ability to play press-man. Kirkpatrick will need work this offseason (and has to learn how to win in an off-man position), but this should give Cincy an opening day starter opposite Leon Hall.
Look at the interior help—on both sides of the ball. Drafting an offensive guard might not bring the attention of an tackle in terms of fan fare, but Kevin Zeitler is a smart pick. Well coached out of Wisconsin, physical and will come off the ball. Flip over to defense with two DTs in Devon Still out of Penn State and Clemson's Brandon Thompson. The Bengals could have gone with a DE with one of these picks, but I like the idea of addressing the D-Line when you play in the AFC North.
WR Mohamed Sanu brings some real size outside of the numbers and Cal's Marvin Jones was the most developed route runner I saw back at the Senior Bowl in Mobile. And don't forget about TE Orson Charles from Georgia (a possible matchup player when removed from the core of the formation). New targets in the passing game for QB Andy Dalton to go along with A.J. Green, Jermaine Gresham, etc.
Late in the draft, most teams target prospects that can play a role on special teams and provide some depth. Iowa CB Shaun Prater works hard and is extremely competitive while Boise State FS George Iloka has some range in the middle of the field. Both should earn their money covering kicks as rooks.
Again, it is April and these rookies haven't been issued a locker yet. And there is always the possibility that some of them don't even make the opening day roster. But when I think of the top draft classes (in terms of talent), the Bengals are on the list.
Follow me on Twitter: @MattBowen41