August 18, 2011 -
Matt Bowen
Did we forget about Reggie?
Earlier this morning, we discussed Cam Newton getting the start vs. the Dolphins on Friday. A big night for the rookie as he tries to lock up the No.1 job for the Panthers.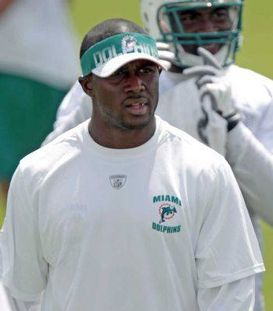 How will the Dolphins use RB Reggie Bush in their offensive scheme?
Another reason to tune into the Carolina-Miami game? Our first look at Reggie Bush in a Dolphins uniform. The former Saints RB didn't play in the preseason opener last weekend vs. Atlanta, and I am curious to see how Tony Sparano lines him up.
When Miami made the trade for Bush, I had some questions as to how he would fit in an offense that features the downhill, two-back running game. I still see Bush as an edge rusher that can stretch the defense and get up the field. Athletic, dynamic and a player that can cause some serious matchup issues.
How does that work in Miami? I would expect the Dolphins to use Bush somewhat creatively when then regular season game plans are put together (something we might not get a look at Friday night). But that doesn't give us any answers to the basic install—the offense that Miami will go to when they need a play.
Think of the off tackle running game: Power O, Lead Open, Lead Strong, Counter OF. Those can get nasty in the NFL when the RB gets downhill and squares up his pads. A car accident waiting to happen in the hole.
Can Bush do that for Sparano? We will find out, because the preseason isn't about gadget plays and exotic formations. Instead, you line up and play football. Much different than running plays on the practice field.
Follow me on Twitter: MattBowen41