November 11, 2011 -
Matt Bowen
Did we see the 'real' Carson Palmer vs. the Chargers?
Carson Palmer threw for 299-yards and 2 TDs last night in the Raiders' win out in San Diego. Solid production from a QB that looked comfortable and relaxed within the game plan.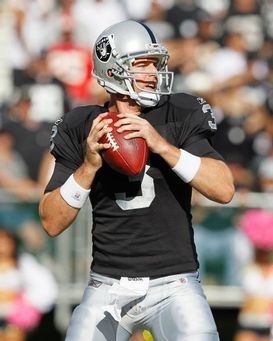 ICONCan we expect to see the same production from Palmer the rest of the season?
The same game plan from Hue Jackson that I commented on earlier this morning. Play with a physical style in the run game, use the screen and get the ball down the field to the speed outside of the numbers.
It doesn't sound complicated and we aren't talking about the offensive scripts of the Saints, Packers or Patriots.
Not in Oakland. This is an offense that can control the tempo of the game, move the sticks and then take shots in the vertical passing game. The exact reason they scout and draft receivers that can get on top of a CB's cushion and stretch the field.
Rookie Denarius Moore was a perfect example of that vs. veteran Quentin Jammer.
However, it still comes back to Palmer. The production has to be consistent for the Raiders to win games and keep control of the AFC West.
My question is simple: is this what we should expect to see from Palmer the second half of the season?
His first two games in a Raiders' uniform? A reason to question the trade (and the value given up) to bring him in from Cincy. Six total interceptions. A QB that played hesitant and struggled reading his route progressions.
Not last night vs. the Chargers. I watched a different QB run this offense and make the throws at the top of the route tree when given the opportunities.
Sure, we can talk about the poor play (and technique) in the San Diego secondary, but the bottom line is the veteran went to work on that defense.
Palmer's production will dictate whether or not the Raiders are playing post season football in January. And if we are watching this ball club in the AFC playoffs, this trade for Palmer will look like a smart play.
Let's see if the production continues for the Raiders' QB down the stretch.
Follow me on Twitter: @MattBowen41