November 15, 2010 -
Matt Bowen
Do the Bears have a championship defense?
I'm not a "stats" guy when I analyze football. Never have been. Instead, when I watch games—and check out tape—I look at players, schemes, game plans, etc. The inside angle of Sundays in the NFL. And when studying Lovie Smith's defense in Chicago, I do think I am looking at a unit that is a top tier, championship defense.
The scheme? Simple. I have broken down the Cover 2—or Tampa 2—defense here at the NFP on the chalkboard. It is in every team's playbook in the NFL (regardless of a 4-3 or 3-4 front). However, in Chicago, like we see in Indy and Minnesota, it is the core call. Rush four, drop seven, get to a landmark and drive downhill on the football. See the quarterback and break on the throw.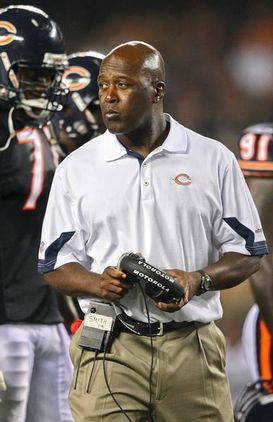 ICONThe Bears are playing their Cover 2 scheme at a high level under Lovie Smith.
Two goals that stand out—and the same goals that are up on the chalkboard in the defensive team meeting room in Chicago right now: hold opponents to 17 points or less and force three or more turnovers.
That's it. Lovie's system is designed to take away the deep ball and force opposing QBs to try and fit throws into tight windows. Give up the underneath routes and make that offense drive the length of the field—because that is when mistakes and turnovers happen for QBs that get impatient.
Is it beatable? Sure, but we can say that about every defense. There are schemes and routes that are designed to beat every coverage we see on Sundays, both zone and man. Against Cover 2: 4 verticals, flat-7, the "dagger" route, "999," options, etc. Easy to draw up on a chalkboard, but hard to execute on game days when a defense is attacking the football.
I have played in this exact system under Lovie in St. Louis and with Perry Fewell (the current Giants defensive coordinator) during my last season as a pro in Buffalo. There is a huge difference in scheme when we put the Cover 2 system up next to the defenses of Rex Ryan, Dick LeBeau and Gregg Williams. It favors speed and angles over X's and O's. And that is what the Bears have on their defense right now. A front seven that is attacking downhill in the run game, a secondary (outside of one deep ball yesterday to Percy Harvin) that is making the ball to go underneath and enough occasional pressure to force opposing offenses into third and long situations.
Yes, the Bears will use various examples of zone pressure in every down and distance situation, such as this nickel fire zone I drew up in the Chicago Tribune over the weekend. And they do play their standard eight-man fronts: Cover 1, Cover 3, Under 10 (weak side man-to-man), etc.
But, it comes back to Cover 2 and their personnel. MLB Brain Urlacher and WLB Lance Briggs are having standout seasons, DE Julius Peppers has become a constant impact player vs. the run, and the secondary—including nickel back D.J. Moore—are making plays on the football. The speed of this unit is very visible, as is their pursuit to the football. Two things that Lovie teaches from day one of mini-camp. I remember, because I was one of the many players throwing up when he came to St. Louis. That first day of practice was an introduction to how fast you have to play to produce in this system.
Statically, this unit is a top five defense in the NFL, and they just held the league's best running back, Adrian Peterson, to 51-yards on 17 carries. But, again, those are just numbers from my perspective. What I see is a defense that is playing at a high level, and along with Devin Hester and their special teams, are primed to make a run and compete with Aaron Rodgers and the Packers all the way to the finish line. Some will say that the Cover 2 scheme is dead, but not when you watch this defense play on tape.
Follow me on Twitter: MattBowen41