December 05, 2011 -
Matt Bowen
Do the Lions have a discipline problem?
There has been plenty of opinion on the Lions, Jim Schwartz and their lack of disciplined football over the last two weeks.
Go back to Thanksgiving and Ndamukong Suh vs. the Packers. A situation I felt strongly about from an ex-player's perspective because it was unprofessional and lacked class.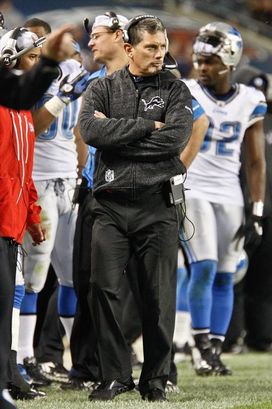 ICONWe should question Schwartz, but the Lions' players have to start acting like pros to make the playoffs.
The two game suspension? A fair penalty handed down by the league.
However, watching last night's game vs. the Saints, we are still seeing the same issues with this team. More penalties after the whistle has blown. A rookie throwing jabs with a ref standing in plain sight and Brandon Pettigrew unable to get through the standard post-play routine that is part of the game.
The TE's response? Make contact with the referee and cost his team another 15-yards over nothing, really.
I do agree that the head coach needs to be held responsible for the play of his team when we talk penalties and a lack of self-control. No different than what I read from Mike Florio over at Pro Football Talk this morning.
And that really started when the Lions' head coach went after Jim Harbaugh earlier this season because of handshake.
But what about these players on the roster? Where is the accountability there? Act like a pro, understand game situations and move onto the next play, series or quarter.
Break down the NFC and Detroit is right in the middle of the playoff discussion. Add in the key injuries in Chicago (plus the up and down play of the NFC East) and there is no reason to think the Lions can't grab a Wild Card spot.
But in order to do that, this team has to clean up the garbage we are continuing to see on game days.
What we are talking about isn't that hard. You can't punch or kick opposing players in the NFL or in a high school game on Friday night. And in this league it costs you points on the scoreboard and wins that are crucial in the month of December.
Follow me on Twitter: @MattBowen41