July 19, 2010 -
Matt Bowen
Do the Redskins have enough talent at WR?
I love the anticipation of training camp. We can focus on actual football, schemes and players who have to step up and answer some questions about their game.
In Washington, I see those players are third-year WRs Devin Thomas and Malcolm Kelly. Forget the drama surrounding Albert Haynesworth. Jim Haslett's unit has enough players to make the switch to the 3-4 front—with or without the DT.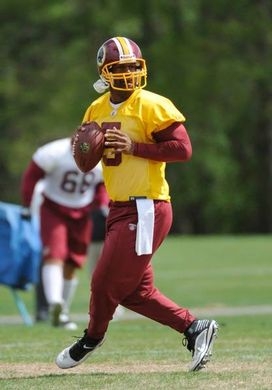 ICONCan Thomas and Kelly produce with McNabb now in Washington?
However, on offense, we are looking at a WR corps—outside of an aging Santana Moss—that is stale and still unproven. That is where Thomas and Kelly come in. Let's distance the Terrell Owens rumors for a while and focus on what the 'Skins do have. These two aren't rookies anymore and they aren't second-year wide outs playing in that disaster under Jim Zorn in 2009.
Instead, they now have a QB that I still see as a top-tier talent in Donovan McNabb and an offense that will provide them opportunities to show up on tape.
This offense will change under Shanahan. Expect to see McNabb on the move and expect to see him out of the pocket with what I like to call "movement" passes (boot, swap boot, misdirection, play action). A tough scheme to prepare for as a defense in a week's time leading up to Sunday. The TE combo of Chris Cooley and Fred Davis will be fun to watch, but there still needs to be production--and big plays--from the wide outs.
In the NFC East, against the pressure fronts of Dallas and Philly, both will see one-on-one matchups. Against the Giants under new defensive coordinator Perry Fewell, they will have to recognize zone blitz schemes and beat a jam vs. Cover 2. It sounds basic and it may sound like we are talking about things that every WR has to do in this league to be successful and productive, but I haven't seen that yet from these two young players on a consistent basis.
And that is what we are really looking at here in D.C. Those opportunities to catch the ball down the field will be there, but they will also need to make plays when a CB is on their hip, in a "jump-ball" situation and when a pass isn't thrown perfectly. Part of the evolution of a pro wide out.
We shouldn't care about potential anymore when a player is entering his third-year in the league. That time has come and gone. Now, it is all about playing like a pro and helping this Redskins team compete in the East.
Ready for fantasy football? Click here to purchse the Total Access Pass/ Draft Guide from the NFP.
Follow me on Twitter: MattBowen41