June 16, 2011 -
Matt Bowen
Do we need to slow down the talk on Plaxico?
I like the idea of Plaxico Burress aligned as the X receiver in my offense on 3rd and medium (think 3-step passing game) and in the red zone where you can throw the slant and the fade on the goal line.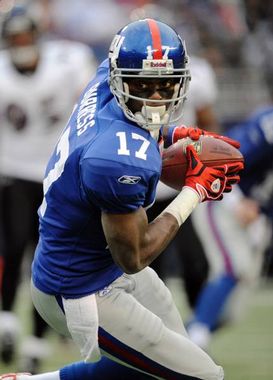 Are we putting too much value on Plax?
But am I putting too much value here on the former Giants WR that has been out of football for two years?
Over the past couple of weeks, Burress has been a topic of conversation because he is a new player to break down in this dull, dry offseason that has been overshadowed constantly by the courtroom and the NFL lockout.
I've talked about him, the NFP's Andrew Brandt has crunched some numbers on a possible looming contract and we try and place him with certain teams for the 2011 season: Eagles, Jets, etc.
However, I started to ask around recently to people in the league, both coaches and scouts. And there isn't an overwhelming amount of desire from what I am hearing to run out and bring this guy in once the lockout is lifted. If anything, more questions than answers on what Plax can provide to your roster in 2011.
One NFC coach thought he would be "close to average'" this season and went back to what Burress showed on tape with the Giants. Mentioned that he wasn't a great route runner and more of a product of the New York offensive system.
Now, we should all agree that Plax will play football this season. Too much size and opportunity to get him on the field in what I call "situational football" (game plan design) to at least not give him a look.
But maybe we should slow down a bit here in our projections that he is going to walk into a camp, line up in one-on-ones and start ripping through the secondary on the fade, post, etc. There is a lot of work to be done in terms of conditioning and getting back on the field using football specific movements.
Like I said, we are going to continue to try and breakdown Burress until he signs with a new club, but let's see what really happens once he get into camp.
Follow me on Twitter: MattBowen41