November 02, 2010 -
Matt Bowen
Do you want Randy Moss on your team?
How about Randy Moss? Would you want to see him line up at wide receiver for your team?
Put yourself in the shoes of an NFL owner, or a head coach, GM, scout, quarterback, etc. Watch the tape, evaluate your own roster at the wide receiver position and ask yourself if Moss can help your football team make a run in the second half of the season.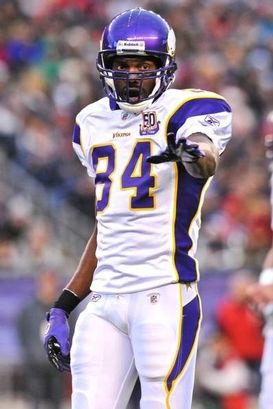 ICONHard to look past the deep ball talent of Randy Moss.
I know my answer after playing defensive back in this league. Because WRs that can stretch the field not only effect the way you play coverage but they also open holes and provide options for other players on the field—like we saw with Percy Harvin in Minnesota over the last four weeks. I still see Moss as the best deep ball threat in the entire league. Can win against the league's top corners and will eat up any safety playing Cover 2 on top of the numbers. If I am looking to make a major upgrade going into Week 9 of the NFL season—and have a squad that is thinking playoffs—I put in that waiver claim today. No question about it because he changes your offense.
Plus, we have to forget about what happened to Moss in Minnesota. That situation is a mess with Brad Childress, and no matter what comes out of the press conferences up in Minnesota this week, it doesn't apply to the next team Moss suits up for. That's over with. Forget post game comments, reports of how he practiced, or that he gave up on plays. Everyone knows that already about Moss. It has followed him his entire career. I saw it on tape for myself when I was playing.
And that is why I always go back to the talent. Give me two deep balls a game from Moss. That's it. Run that deep fade route and flip the field. I would use pre-snap motion, bunch formations, stack looks, etc. Anything to get him a clean release off of the line of scrimmage—where he can get to top speed. Because that is worth paying over $3.38 million—the remaining money on Moss' 2010 contract.
We can speculate all day on where Moss will end up. All we know is that the 0-7 Buffalo Bills have the first crack at making a waiver claim on the WR. After that? Just guesses. And I have heard them all: Washington, Seattle, Miami, New York, Chicago, Oakland, back to New England, etc. But, I would be shocked if he made it through waivers today. The talent alone is too good to pass up.
But, I still turn it back over to you. I know I want him in uniform this Sunday for my team—and I will pay up to do it. Align him outside of the numbers and let him get down that field.
What do you think? Let me know…
Follow me on Twitter: MattBowen41