February 23, 2012 -
Matt Bowen
Does defense still win championships? Lovie thinks so
INDIANAPOLIS—The Bears need a serious upgrade at the WR position. It is a glaring issue and a topic that will be discussed throughout the week here at the NFL Combine with rookie prospects such as Baylor's Kendall Wright, Notre Dame's Michael Floyd, etc.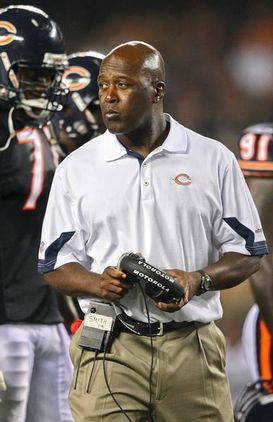 ICONWill Lovie Smith and the Bears look at the defensive side of the ball in the first round of the NFL Draft?
However, would anyone be surprised if the Bears looked at the defensive side of the ball when they are on the clock in the first round of the NFL Draft?
Talking to the media today, head coach Lovie Smith was asked if defense still wins championships in the NFL and this is what he had to say: "Yes, I am totally convinced of that. In order to win, of course it's a biased opinion, but I think you have to have a strong defense, have a running game and be able to have explosion in your passing game."
My opinion? I agree with the Bears' head coach—to an extent.
You don't need a Top 5 (or even a Top 10) unit to win on Sundays in today's NFL. Instead, look at game situations and field position. Think 3rd downs, red zone efficiency, the two-minute drill and the ability to create turnovers. That's where you need a legit defense. Get off the field, win inside of the 20-yard line and produce scoring opportunities for your QB by giving him the ball in plus territory.
Produce in those specific game situations and you will see results in the NFL—regardless of what your overall defensive ranking is at the end of the season.
When looking at the Bears defensive personnel in Chicago, that equates to addressing the DE position (opposite of Julius Peppers) and targeting some help in the secondary at CB.
No question WR is a position of need in Chicago, but when it comes to creating a defense that can consistently produce in key game situations, the pick at No.19 could reflect the head coach's belief on how you win titles.
Follow me on Twitter: @MattBowen41