March 17, 2011 -
Matt Bowen
Does the NFL's proposed kickoff rule hurt the game?
One thing we have to understand with the NFL's competition committee is the angle towards player safety (mainly head injuries) in today's game. Wednesday, I talked about flagrant, or violent, hits leading to suspensions.
Today, let's discuss the possible rule change of kicking the ball off from the 35-yard line. A major phase of the game that teams rely on for field position that could be minimized. The simple question: is it worth it?
Here are the new "proposed rules" to kickoffs on Sundays:
-Ball is kicked off from the 35-yard line (30-yard line last season)
-Touchbacks are brought out to the 25-yard line (20-yard line last season)
-Coverage players cannot line up more than 5-yards behind kicker (trying to reduce the top end speed)
-No wedge blocking (2-man wedge least season)
Let's break this down and take a deeper look at how this rule would impact the game…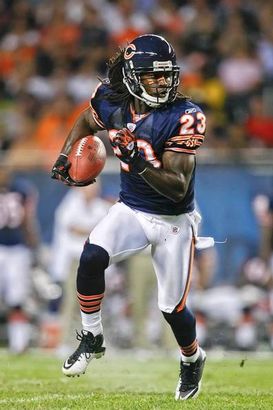 ICONWill the NFL's proposed kickoff rule impact elite returners such as Devin Hester?
Hope of limiting injuries: I get this, because I have experienced concussions covering kicks during my career—and they aren't something to joke around with. During last season, I detailed my own post-career symptoms with concussions at the Chicago Tribune, but that doesn't mean we should alter the game. I want players to get through Sundays without feeling the impact of a helmet-to-helmet collision, however that is part of the job when playing special teams. You line up for a kickoff in this league, you will experience a high-speed violent collision—and they hurt. It is possible we will see more touchbacks, but 5-yards isn't going to solve the problem on contact.
Impact of elite returners: Think of Devin Hester in Chicago or Leon Washington in Seattle. Game changers, top tier talent. This is why they are so valuable in the kick return game. Yes, man-blocking schemes will give them an advantage early in the season, but why take away what I view as one of the most important (and exciting) plays in the game? I would pay good money to see Hester return kicks. And special teams are essential to Sunday.
No wedge blocking: During my career, there were a couple of teams that didn't use the 3-man wedge, instead going with a man-blocking scheme. It was tough to prepare for—and also tough to find the ball. We are talking about special teams coaches having to teach an entirely new scheme across the league. Who does that benefit? The return unit in my opinion. Hitting the wedge impacts both blocker and coverage man on initial contact and I worry that we will see coverage teams playing on the passive side—while they try to find the football.
Field position: No doubt this will impact field position, and for a team such as Chicago, this hurts. I expect to see an increased number of touchbacks if this new rule gets passed and this will impact offenses. No longer can you depend on a big return to set you up with a short field to work with or a quick score. Now, you may have to drive almost the length of the field to get points on the board.
Again, I applaud the league for trying to limit the amount of injuries we see, but don't make a rule change that impacts the overall quality of the game. You know what you signed up for as a player when you line up on kickoff coverage. It isn't pretty, but it is part of the game.