January 18, 2011 -
Matt Bowen
Does the Soldier Field turf give the Bears an advantage?
Is the grass at Soldier Field really that awful? I would say yes, and this is coming from someone who hasn't played there for a long time. But that is the issue with playing the Bears at their place. It is slick, it is tough to come out of your breaks and the overall traction with your cleats is a problem. I remember changing my cleats after warm-ups and trying out yet another pair at halftime.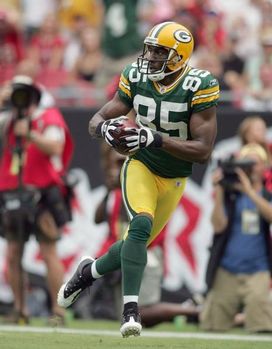 ICONJennings spoke out on the turf at Soldier Field this week.
General opinion is that this gives the Bears an advantage in the NFC Championship game vs. the Packers. A sloppy field vs. a group of playmakers on the Green Bay offense. Think of a double-move, breaking inside on the deep dig route (square in) or even running a simple 3-step slant route. Need your cleats in the ground to do that.
I understand the concerns from the Packers' Greg Jennings this week. Tough to produce at a high level when you struggle to run the basic routes in the playbook.
However, it goes both ways. Think of the Bears—and the style of football that they play. Fast on defense, drop to a landmark in Cover 2 and break downhill on the ball. On offense, in Mike Martz's system, there are multiple-breaking routes that require a WR to plant that outside foot and get up the field.
From my perspective, the Bears are built to play on field turf, not the grass that is constantly replaced by the Chicago Park District—the decision makers when it comes to Soldier Field.
We can all agree that this epic NFC Championship game is going to be played on a field that might not even rival some high school stadiums—in late October. But to say that it gives either of these clubs an advantage doesn't really add up. You adjust as a player, get out early in warm-ups to test your cleats and hand a spare set to the equipment guys that can be easily changed during a TV timeout. Break down earlier in your routes and don't overextend your feet in coverage.
Technique becomes the No.1 priority on a sloppy field this Sunday—which both teams have to play on. No advantage there.
Follow me on Twitter: MattBowen41
Want to work in the NFL? Click here to sign up for the NFP's "Chalk Talk" session at the Combine in Indianapolis on February 25th.