February 11, 2011 -
Matt Bowen
Don't buy the Cam Newton hype just yet
What did you expect from Cam Newton yesterday in an orchestrated workout in front of the media? A show put on by his father that didn't include a single scout, coach or GM from the NFL. For a player that is projected as a top talent in the draft, what he did in shorts shouldn't come as a surprsie. He looked the part according to reports, threw the ball like a pro QB and got the post workout reaction he wanted--complete with the extra hype. But that wasn't an NFL workout.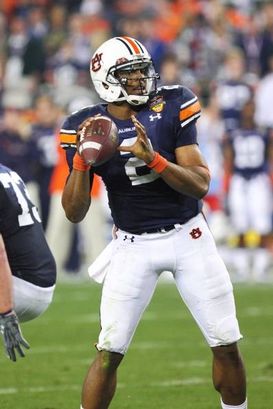 ICONNewton's workout in front of the media isn't going to impact his draft stock.
There wasn't the real stress and pressure involved that Newton will eventually see in Indianapolis at the Combine (something I will discuss later this month) or at a standard pro day on campus. That is when we discover how prospects respond when the entire league is watching their technique, footwork, conditioning, strength, etc.
That is the real interview with the NFL—and exactly what they want. See them perform under pressure. The basic theory behind the Combine and the follow-up pro day. Test them under tough circumstances. I've worked out in Indy and it is the ultimate job interview.
All Newton did yesterday was look good in front of the cameras, and the league scouts I talked to aren't buying it.
They want to see it under their rules, in their workouts. One scout I spoke with on Thursday said that the entire workout "doesn't make sense" and nothing that happened will impact how he grades out Newton leading up to the draft. Another scout even laughed at the entire idea—calling it a "publicity stunt."
The talent? The scouts will tell you that Newton can play. Yes, there are questions about his accuracy and his lack of overall starting experience, but the athletic ability, big body and physical skills are tough to look past. He is an intriguing athlete that will require a lot of homework. Interviews will be just as big as what he can do in Indy or at his pro day with a football. The NFL wants some answers from his past and about his father—who seems to be around at all times.
As one scout told me down in Mobile during the Senior Bowl, it is going to take an NFL team one year to find out what type of player Newton is and one year to find out what type of character he has. There is some risk involved.
What took place on Thursday was a free look. That's it. This wasn't a test by NFL standards. Instead, an opportunity for the media to check out one of the hottest names in the draft. A player that has been in the news for a lot of the wrong reasons since he left the University of Florida and headed over to Auburn.
The NFL will get their time with Newton. Accuracy, pro route schemes, etc. The same things the league will want to see from Blaine Gabbert of Mizzou and Ryan Mallett of Arkansas. Watch them work out in shorts and grade them based off of the results, interviews and game film.
But let's cool the hype for now. This is a long process. Newton might end up being a top ten or even a top five pick. There are quarterback hungry teams at the top of the draft that can't win on Sundays with their current depth charts at the position. Or we could see a steady decline from the Combine until late April when the names are finally announced at the draft.
We are all going to have opinions and I'm saving mine until the NFL gets a real look at Cam Newton—when it counts.
Follow me on Twitter: MattBowen41