January 02, 2013 -
Matt Bowen
Don't forget about Lynch
Click here for the entire Inside the Playbook series.
I expect the majority of the hype surrounding the Seahawks-Redskins matchup in the NFC Wild Card to focus on quarterbacks Robert Griffin III and Russell Wilson. These two rookies have played like vets throughout the season and are tough to prep for from a game plan perspective.
But let's not forget about Marshawn Lynch and the running game under Seahawks' coordinator Darrell Bevell. Look for multiple schemes out of a variety of personnel and alignments.
Using the All-22 tape, here are three runs to breakdown...
1. Lead Open: Regular personnel (2WR-1TE-2RB)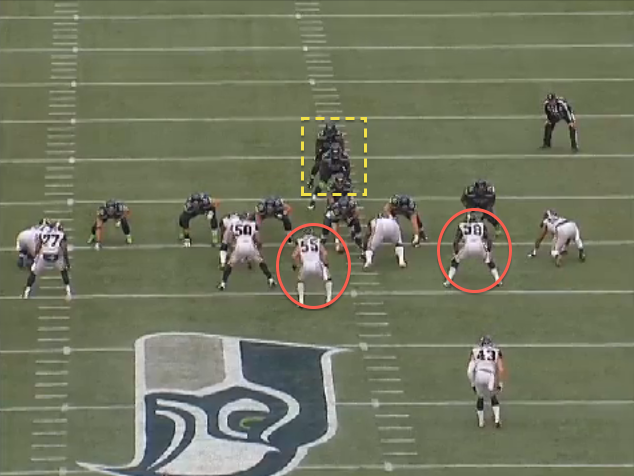 One of the 2-back power runs (Lead Open, Lead Strong, Power O, Counter OF) in the Seahawks' playbook. Playing vs. the Rams 4-3 front, Seattle is going to lead the FB to the open (weak) side on the Will LB and work up to the Mike with the LG. No window dressing here. A base downhill scheme.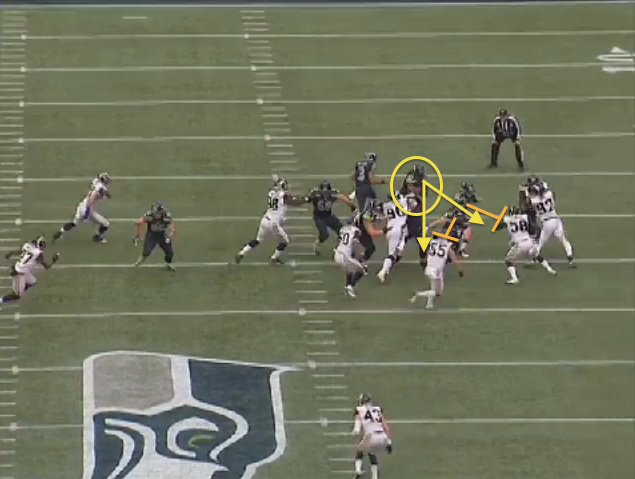 With the FB kicking out the WLB, Lynch is going to read the path of the LG. Allow the blocks to develop and then make the cut.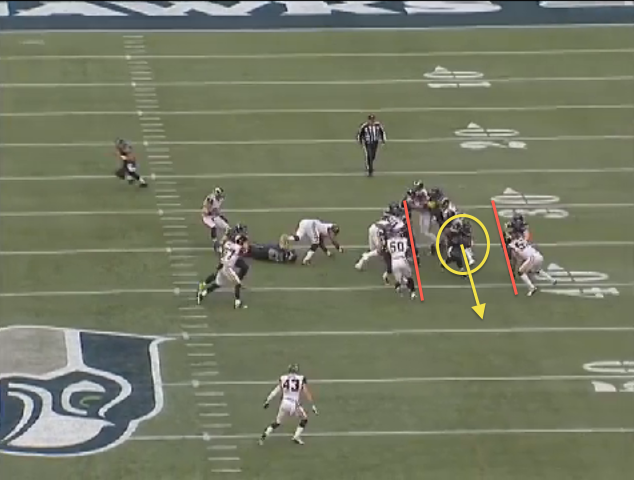 As we can see on the tape, the LG washes the Mike past the hole and Lynch now has a clear lane to square his pads. Solid execution of a scheme that is installed on the first day of camp.
2. Read Option: Posse personnel (3WR-1TE-1RB)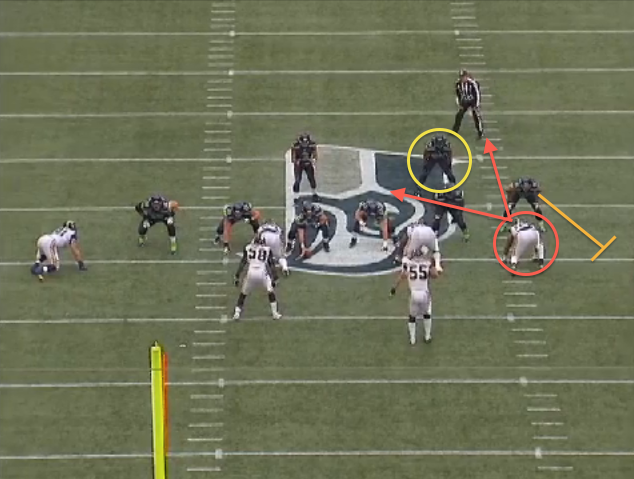 The Seahawks have been productive this season with Wilson and Lynch on the Read Option. Working here vs. the 4-3 front, Wilson will read the DE (OLB in 3-4 front). If he stays up the field, give the ball to Lynch on the downhill path. If the DE crashes, Wilson will pull and get to the edge.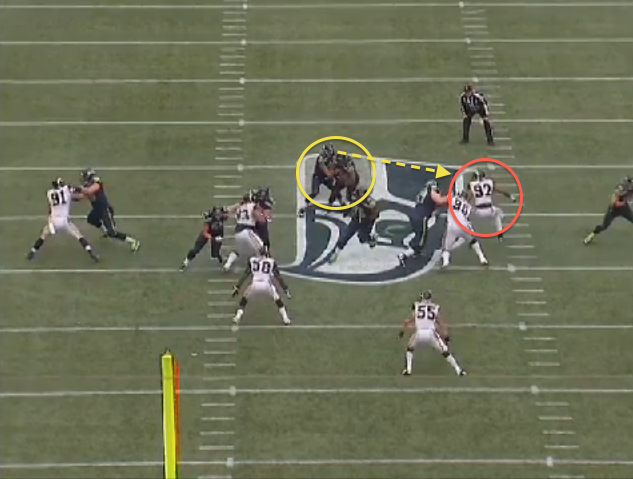 Here is a look at the "mesh point" with Wilson and Lynch. With the DE staying to the outside, this is an easy read for the QB. Give the ball to Lynch and let him get him up the field.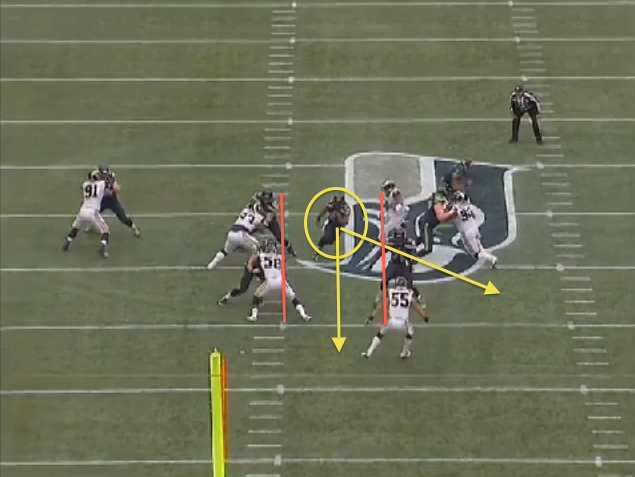 Again, look at the running lane for Lynch. With the LT getting to the second level of the defense, Lynch can play off the block and cut to the outside.
3. Zone (Stretch): Ace personnel (2WR-2TE-1RB)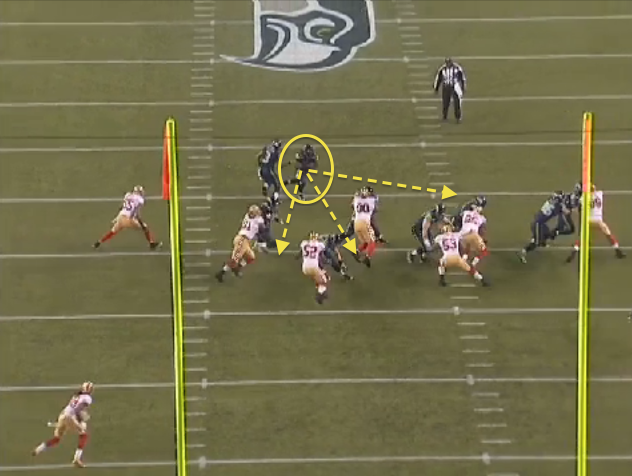 The Zone (or Stretch) series out of the Pistol alignment vs. the 49ers. The idea is to get the ball to Lynch deep in the backfield with zone blocking up front. You want the RB to have options. Read the backside pursuit, pick a lane and get vertical.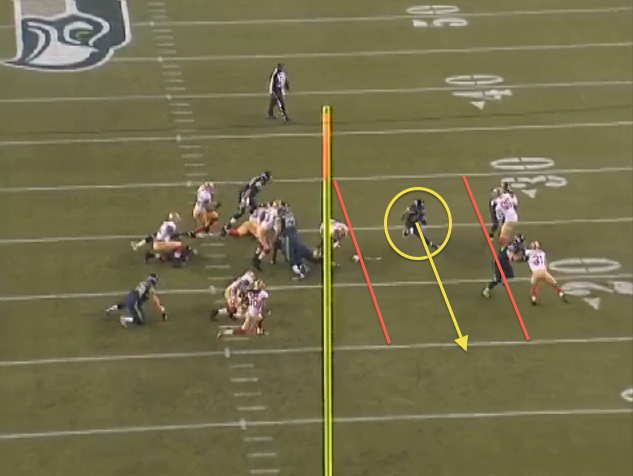 Lynch shows his patience on this run and extends the play to the edge of the defense. And with another open hole to work with, this turns into an explosive gain for Lynch. The Seahawks are going to show the Redskins' defense a variety of looks this Sunday in Washington. That leads to play action opportunities along with the movement passes (boot, sprint, dash) for Wilson. A great matchup to watch.