November 08, 2012 -
Matt Bowen
Don't forget about Reggie
Watching the Colts improve to 6-3 on the season tonight with a win over the Jags, it's easy to focus on rookie QB Andrew Luck. The footwork, vision, ability to slide vs. pressure, etc. I get it. The young QB has all the tools.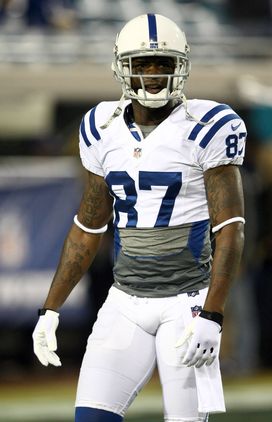 US PRESSWIREReggie Wayne plays the game like a pro.
Hey, I'm guiltily of it also when it comes to breaking down this Colts' squad because the talk centers on the rookie. I even went back to the All-22 tape to take a look at Luck vs. the Dolphins when the QB threw for 400-plus.
However, we can't forget about Reggie Wayne. Nope. He is just too valuable to what the Colts do on offense. From his route running, blocking and the ability to finish plays, Wayne is vital to Indy's surprising start.
Look at the multiple breaking route Wayne ran tonight in the red zone or his willingness to cut down DEs in the run game. That stuff sells to a young ball club when you turn on the tape.
I'll be honest here, because I questioned Wayne's decision to re-sign with the Colts this past offseason. Why would a vet—an established vet—want to come back to a team, an organization that was set on "rebuilding" after moving on from Peyton Manning?
And why would a player with Wayne's skill set stick around to learn a new playbook? Think of how many years we watched Wayne line up on the left side of the formation with Manning and run the "Levels" concept. It was automatic.
Now he would be asked to contribute to the run game, mix his alignments, run different routes, learn new terminology, etc. I played with plenty of vets who would have turned that down, looked for a winner and tried to catch on with a QB that had experience.
Not Wayne. He came back and is one of the major reasons Luck is having this much success only nine games into his career. That's impressive to me. Plus, it also shows a sign of professionalism that aids the development of a team and a locker room.
I don't know if the Colts can maintain this level of play and make a run to the post season. Maybe they do. But regardless of where they end up, I'm still going to look at Wayne with a ton of respect after this year. He plays the game like a pro.
Follow me on Twitter: @MattBowen41