July 14, 2011 -
Matt Bowen
Don't forget about the undrafted rookies
While we continue to wait for the NFL lockout to officially end, speculation runs high when it comes to the top tier free agents and possible trades once veteran player movement takes off. Names like Eagles' QB Kevin Kolb, the future of Carson Palmer in Cincy and the team that is going to open up their wallets for CB Nnamdi Asomugha.
However, don't forget about the amount of undrafted rookie free agents that will end up on opening day rosters around the league. Because many of these players (waiting to find their new home) will contribute to an NFL club.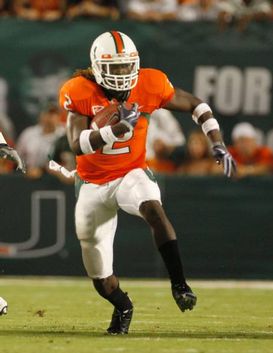 ICONFormer Miami Hurricane Graig Cooper is still waiting to find out where he will be going to training camp this summer.
Here is a list from the NFP's Wes Bunting on the top available undrafted college free agents. Ten names that we should keep an eye on in training camp…
RB Mario Fannin: Auburn
RB Graig Cooper: Miami
RB Noel Devine: West Virginia
WR Terrence Toliver: LSU
TE Weslye Saunders: South Carolina
OC Tim Barnes: Missouri
DT Martin Parker: Richmond
ILB Josh Bynes: Auburn
SS DeAndre McDaniel: Clemson
SS Deunta Williams: UNC
Their immediate impact? Special teams. This is how undrafted rooks ultimately survive the cut days during camp and find themselves not only on the opening day roster, but dressed and playing in Week 1. You must have rookie talent that can cover kicks, attack the wedge, play a role in punt protection and as an added bonus, contribute (with production) to the return game.
On offense and defense? Don't be surprised to see a couple of these names playing some minutes at some point throughout the season. Veterans go down with injuries and if you are on the roster, then it is time to go out and play. Just ask the Packers and CB Sam Shields from the 2010 season.
The real point here is that the draft is anything but an exact science. We talk about first-round busts to a greater degree, but there are mid-to-late round draft picks that will get cut during camp. Why? Because an undrafted free agent came in and took their jobs in August.
No question when it comes to undrafted free agents that they have a tougher hill to climb in order to make an NFL club. The opportunities and the amount of reps they see during camp (especially after the lockout has wiped out the offseason) are crucial—because they won't have many of them.
But if they can go out and make some plays in the kicking game during the preseason, show the coaching staff that they can handle the speed of the NFL and be "playbook sound" during practice, we will see them in the regular season.
Follow me on Twitter: MattBowen41