July 12, 2010 -
Matt Bowen
Don't forget about Urlacher in Chicago
Is the Bears' Brian Urlacher ready to have a bounce back season and perform at a high level at the middle linebacker position? I ask this because in an offseason highlighted by Mike Martz, Jay Cutler and Julius Peppers in Chicago, Urlacher has been lost in the shuffle.
But, that doesn't discount his importance to the Bears in 2010.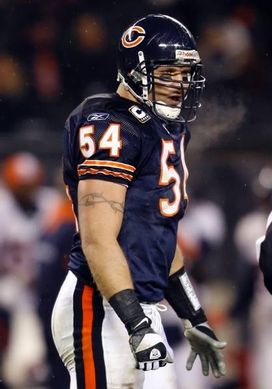 ICONUrlacher's production will be key to the success of the Tampa 2 defense in Chicago.
We have to understand that to play in Lovie Smith's or Rod Marinelli's version of the Tampa 2 defense, there has to be a playmaker at the MLB position. Someone who can run with any inside vertical scheme, show up on tape in the run front and make plays behind the line of scrimmage. You have to get that out of the Mike Backer.
From what I hear, Urlacher has used this offseason to get himself in great shape, but we are talking about a guy who hasn't really seen much action since the 2008 season. We know he isn't the same player he once was, but that still doesn't hide the fact that he has to show up on film this season.
I have spent some time breaking down the Tampa 2—and ways to beat the Tampa 2—this offseason. I do tend to view it as a dying coverage in the NFL because of the impact and success we are seeing from the pressure fronts across the league, but Chicago is a team that relies on its Cover 2 scheme when they need a play.
Talk to any coach and they will tell you the weak side linebacker (or Will) and defensive tackle position are the keys to the success of this scheme. They are the designated playmakers if everyone else plays their role. But even after hearing that multiple times, I still see Urlacher as a crucial factor to this defense's success in 2010.
Think of the Mike Backers in Cover 2 at the NFL level. They have to run with the tight ends of today's NFL and be able to match to a WR in terms of speed and athletic ability vs. the spread and empty sets we see from offenses across the league. Plus they have to fill the hole, shed a block and make a play in the running game.
For the Bears, they need that from Urlacher. Beyond his leadership in the huddle and in the locker room, they need a player who can still provide that impact and still produce. A lot to ask from a veteran who hasn't seen valuable minutes for some time? Of course, but the success of this team depends on it.
Ready for fantasy football? Click here to purchase the Total Access Pass/ Draft Guide from the NFP.
Follow me on Twitter: MattBowen41