January 21, 2012 -
Matt Bowen
Don't forget about Welker
Click here for the entire Inside the Playbook series.
When breaking down the Patriots' offense during the playoffs, my focus has been on the TE position in New England. Route schemes you have to defend and coverages designed on the chalkboard to limit Rob Gronkowski and Aaron Hernandez.
However, you still have to game plan for Wes Welker—especially when he is aligned inside of the numbers. Think combination routes here (Flat-7, Pin, Double Smash-7, Double Smash-Post, option, etc.). Concepts that allow Welker to work away from a defender's leverage (Cover 1) or sit down in vacated holes in zone coverage (Cover 2, Cover 4).
Here is an example from the Patriots' 45-10 win over the Broncos in the Divisional playoffs. New England aligns in an empty formation (3 WR, 2 TE) and runs the Double Smash-7 (short square-in, corner combo).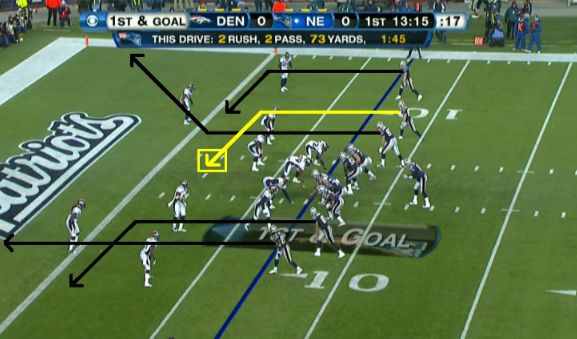 We see this route every Sunday in the NFL. The Patriots just dress it up with an empty formation (running a "Pin" route to the open side) and by aligning Welker as the No.3 to the closed (strong) side of the formation.
Simple route and an easy target for QB Tom Brady when Welker wins at the line of scrimmage and works back to the middle of the field. Time to put six points on the board.
What else should the Ravens prep for? Here is a list of route schemes I expect to see from Welker tomorrow in the AFC Championship game.
- Dig (intermediate square-in)
- Flat (part of a Flat-7 or Flat-Dig combo)
- 3-step slant
- Option
- Whip Option (hard inside stem, work back to the numbers)
- WR Missile Screen (bubble screen)
- Seam
- Skinny Post
- Stick Out
I'm as curious as anyone else to check out this Ravens' defensive game plan tomorrow in Foxborough and see how they defend the TE position. You must limit the production of Gronkowski and Hernandez to beat Brady and the Pats. But don't let that discount the value of Welker in that offense. Crucial situations (3rd down, red zone) and another added matchup issue for defensive backs.
Follow me on Twitter: @MattBowen41