February 03, 2012 -
Matt Bowen
Don't overlook the Giants' talent at WR
In breaking down the Giants this week, my focus has been on the defensive side of the ball looking at the safety position and the front four pass rush of Justin Tuck, Osi Umenyiora and Jason Pierre-Paul vs. Tom Brady.
However, we can't forget about the talent Eli Manning has to work with in the passing game. Here is what I see with Hakeem Nicks, Victor Cruz and Mario Manningham. A talented core group of WRs that can test the top of the Patriots' secondary.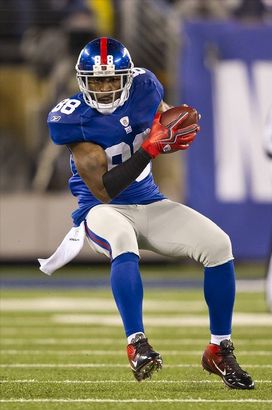 ICONHakeem Nicks will have opportunities to test the top of the Patriots' secondary in Super Bowl XLVI.
Hakeem Nicks: Size, length and vertical speed. A true No.1 outside of the numbers that can attack Cover 2, work the top of the route tree and win vs. press-coverage with a single high safety look in the middle of the field. And don't forget what Nicks can do after the catch on the dig route (square-in) or the deep curl. An ideal fit for Manning and the vertical offense that we see in New York. I would test this Patriots' secondary early with Nicks on Sunday and look to target him inside of the red zone—because he is a matchup issue on the slant and (back shoulder) fade.
Victor Cruz: I don't see Cruz as a "speed" player, but we have to focus on what he can do in the route stem. Cruz has the ability to win at the line of scrimmage and create separation at the top of the stem (where the WR makes his initial break) to stack on top of a DB or work back inside of the numbers. That sells when you can consistently beat a defender's leverage, put him in a trail position and go get the football. Think of the intermediate route tree with Cruz, but let's also remember that he does high-point the ball and make plays down the field. On Sunday, I would try to get Cruz aligned inside of the numbers and look to target him in crucial game situations (think 3rd downs) where he can move the sticks.
Mario Manningham: It's easy to look past Manningham because of the attention Nicks and Cruz draw from a defensive game plan perspective. But going back to the playoff run for the Giants he will show up inside of the 20-yard line. Look at the deep slant he ran vs. the Packers and the 4th quarter TD vs. the 49ers on the skinny post where he pressed the route to the middle of the field. A player to check out when the Giants bring their "Posse" personnel (3 WR, 1 TE, 1 RB) on the field. And another option for Manning to attack this New England defense with on Sunday.
Follow me on Twitter: @MattBowen41