July 10, 2011 -
Matt Bowen
Don't read into the Broncos' depth chart just yet
When coaches talk about depth charts in early July (especially during a work stoppage) take them lightly—and don't buy the hype. If anything, it is more of a formality, an outline for the first day of practice.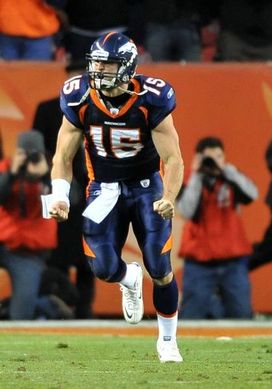 ICOOrton may be the No.1 QB in July, but don't forget about Tebow and Quinn just yet.
That's how I view the depth chart that John Fox showed to Woody Paige of the Denver Post. The new Broncos coach listed veteran Kyle Orton on his depth chart in that No.1 slot in front of Tim Tebow and Brady Quinn.
However, this looks like a true competition at the NFL level. No favorites like we see in most pro camps. Instead, go out and compete for the new coach. A situation where these QBs will have to treat each practice, film session and correction period as an interview.
And with the lockout continuing to press on, each day will be an opportunity for Orton, Tebow and Quinn to work with coaches they haven't spent time with on the practice field.
I can't disagree with Fox handing the ball to Orton on that first day of camp. That makes sense. Give the huddle to the most experienced veteran and see what he can do.
After that? An "open" competition where QBs share reps and get even time with the first unit on offense before the coaching staff forms a plan for the first preseason game. Number of reps, play calling, etc. Because then it comes down to production and what we see on tape.
Camp battles are great to watch. I've been in a few myself just to make the opening day roster. They require players to show up and be accountable on every rep in practice—and then do it all again the next day. There is no such thing as a day off when you are competing for a starting job at this level.
That is what we should expect out in Denver when camp (hopefully) begins and rolls into August. But like I said above, don't worry about the QB depth chart for the Broncos right now. Orton may be the No.1, but Tebow and Quinn will get a shot to take over that top spot once we can settle this lockout and get back to real football on the field.
Follow me on Twitter: MattBowen41