August 19, 2011 -
Matt Bowen
Don't read into Vick's night vs. the Steelers
Michael Vick didn't play good football in Pittsburgh. The numbers: 5-12 for 47-yards, along with three interceptions. Not what you should see from your No.1 QB in August.
However, when you take a closer look at the three picks that the Eagles QB threw vs. the Steelers, this isn't anything you can't correct And that's why Vick needs to get back in the film room, watch the tape and make these simple adjustments. Let's take a quick look at his three interceptions…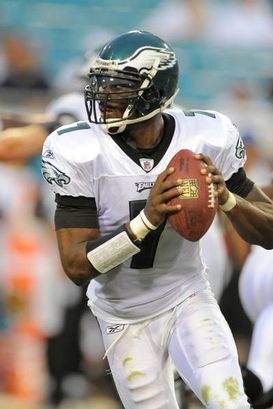 ICONVick threw three INTs, but when you break it down these are correctable mistakes.
1. Didn't force FS Ryan Clark to hold his alignment. If you are going to throw a 9 route (fade) up the numbers, the QB has to hold the FS on his landmark and cut down the angle to the football. That is all about "eyes" for Vick. Lock in on a vertical route vs. a veteran safety like Clark and he will break before the ball is even thrown. That's too easy.
2. Ball placement trying to hit the crossing route. The Eagles will run short-to-intermediate crossing routes all season long as part of their "Hi-Lo" concepts. A major part of Andy Reid's game plan. However, vs. NFL DBs playing in a trail position, you can't put the ball on the back shoulder of the WR. An interception every time in this situation if you don't target the up-field shoulder of the WR (away from the DB).
3. I saw a frustrated QB on Vick's third interception of the night. Pocket collapses and Vick shows us just how good he is at escaping pressure. But what does he do next? Force the ball into coverage. All this amounts to is bad decision making. The last interception isn't about technique, mechanics or reading coverages. Vick threw this one up.
Again, don't read too much into one night in August. Was it good enough? Not even close. However, we are talking about three interceptions that can be easily corrected when the QB sits down to turn on the film. And now it is on Vick to treat a poor game in the preseason like a pro by making it right.
Follow me on Twitter: MattBowen41