September 13, 2011 -
Matt Bowen
Don't sleep on McFadden, Raiders run game
Let's go back to the late game out in Denver on Monday night, because we need to talk about RB Darren McFadden the Raiders O-Line. I understand this was a sloppy football game—and the Raiders need to get much better play from QB Jason Campbell. But when you can run the football (and win up front), you can control the tempo of the game.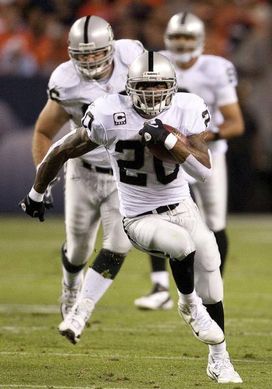 McFadden ran through the Broncos defense on Monday night in the Raiders win.
Here's what I saw from McFadden in the 23-20 win over Denver:
- Great vision. It is a "buzz" word that is often just tossed around when breaking down the position, but that's what you get from McFadden. He can see the field, find cut back lanes and create running room. Ideal vs. a defense that will over-pursue to the ball.
- Power at the point of attack. From my perspective, I want RBs that are going to lower there pads on contact, stay square through the hole and play physcial. And when they get near the sidelines (when a DB has the proper angle), don't dance out of bounds. Instead, put your shoulder right into the DB's facemask. McFadden finished runs.
- Speed. This is nothing new with McFadden. But the key here is his vertical speed through the hole. Make that one cut, get up field and work the second level of the defense. He looked smooth.
Like I said above, there needs to be more production from this Raiders offense outside of McFadden and the 150-yards he posted vs. the Broncos. But winning in the run game has to be consistent part of the Oakland game plan moving forward.
Follow me on Twitter: MattBowen41