October 16, 2011 -
Matt Bowen
Don't sleep on the 49ers
Some quick notes on the Niners after their 25-19 win in Detroit. I haven't written a lot on Jim Harbaugh's football team, but after watching their physical brand of football today, you can't deny the 5-1 start. Time to give them some much deserved hype.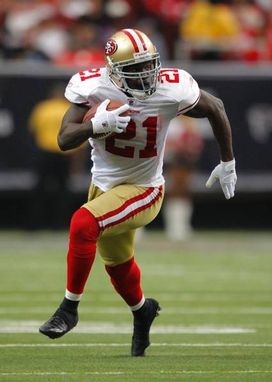 ICONGore ran through the Lions' defense today and finished with 141-yards.
- The Niners remind of the Raiders when we talk offensive football. Run the ball downhill, use the Power O, the Wham, Lead Open, etc. Frank Gore gave it to this Lions front seven today, hit the hole and produced when he got his pad level down. Finished with 141-yards on 15 carries with a TD. And when the 49ers want to use their edge runs, the draw, the inside trap, etc., they can bring Kendall Hunter into the game. I love watching physical football teams up front.
- Alex Smith missed on a lot of passes today. Think of the overthrows on the inside seam routes—plays he has to make. However, despite his numbers (17-31-125-1 TD-1 INT), go back to the TD throw. Fourth down situation, game on the line. Again, Smith doesn't have to put up MVP type numbers at the QB position based off the game plan Harbaugh installs every week. But he does have to make a play in crucial situations that dictate wins and losses. I'm not saying we can count on Smith to close every Sunday, but we did see that today.
- The winning TD pass is a classic "pick play" run throughout the NFL in the red zone. The inside No.2 receiver (Michael Crabtree) will run a 7 (corner) route with a hard outside release. What do you get from No.1? A "smash" route (hard inside release). This plays out like a 3-step slant route to Delanie Walker. The key, however, is Crabtree. He has to "rub" the DB playing over the top of Walker and create separation for the "smash" route to break back to the middle of the field. Great call on a 4th down situation that gives Smith two quick reads.
- A quick note on LB Patrick Willis. He is a complete football player. Tackles, gets downhill in the run game and can matchup with a TE like Brandon Pettigrew. He is fun to watch and should be talked about with the best defensive players in the NFL.
Follow me on Twitter: MattBowen41