June 02, 2012 -
Matt Bowen
Drawing up the 'Slant-Flat' vs. Cover 2
Click here for the entire Inside the Playbook series.
The Slant-Flat: a basic 3-step route combination (run from multiple personnel groupings) you can see on Friday nights in the high school game and on Sundays in the NFL. One of the first concepts installed during offseason OTAs in the NFL and still a top call in the game plan because of the quick, easy read for the QB vs. zone (and man) coverage schemes.
Today, let's go through a quick coaching session on the Slant-Flat vs. Cover 2 (or Tampa 2) up on the chalkboard.
Personnel: Ace (2 WR-2 TE-1 RB)
Formation: "Unit" (2x2 with both TEs attached to core of formation)
Route concept: Slant-Flat
Defensive scheme: Cover 2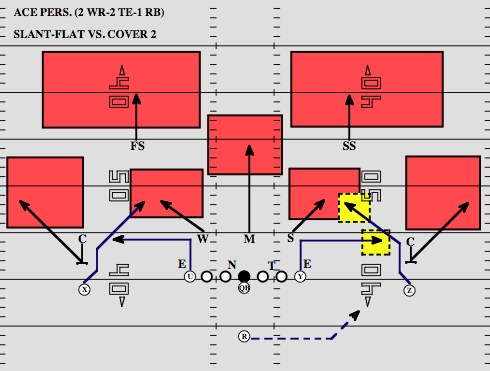 Coaching points:
Route breakdown: Both No.1 WRs (Z, X) will work to defeat the initial jam at the line of scrimmage (Cover 2 CB technique), take a quick vertical stem and then break back to the middle of the field on the slant (can also be run as a "one-step" read for the QB). Moving to the TEs (Y, U), the flat concept requires a short stem off the line with the outside cut to the "flat."
WR Splits: Check out the pre-snap alingments of X and Z. I call this an "over split" (WR aligned with a plus-split outside of the numbers). The slant is run with the WRs aligned outside of the numbers to keep them out of the traffic in the middle of the field.
QB Read: The QB will take the 3-step drop and read the CB vs. Cover 2. After the initial jam, the CB is taught to widen vs. the flat route (throw the slant in this situation). However, if he chases inside and stays on the outside hip of the WR, the QB will look to target the TE in the now vacated flat.
Small window (slant read): The ball must come out quickly. With both LBs (Sam and Will) dropping as "seam-hook" defenders, the throwing window is tight on the slant. On that third step (in the QB's drop) the ball should be out before the LBs can break into the passing lane. Throw late vs. Cover 2 and the LB will be in a position to make a play on the ball.
Safety depth: This isn't the safety's play to make vs. the slant. However, if you have a safety that wants to sit short in his initial alignment and drive on the slant, come back with the "sluggo" (slant and go) or just throw the 9 (fade) route on the next play. That will move him back to a depth of 15-yards for the rest of the game.
Follow me on Twitter: @MattBowen41